St. Peter's Urgent Care in Saratoga Springs to Open August 13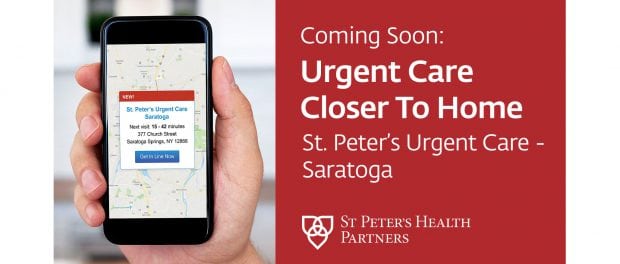 St. Peter's Health Partners will open its sixth urgent care facility on August 13 in Saratoga Springs.
St. Peter's Urgent – Saratoga Springs will be open seven days a week on a walk-in basis. The practice is located at 377 Church Street in Saratoga Springs, in the same building at St. Peter's Primary Care.
St. Peter's Urgent Care is dedicated to providing excellent medical care plus top-notch customer service in an exceptional setting. Patients have rapid access to board-certified providers, experienced in the care of acute illness and injury.
Staffing St. Peter's Urgent – Saratoga Springs will be Jonathan Berg, DO, Gloria Ethier, DO, and nurse practitioners Eileen Murphy and Rosann Wilcox.
In a friendly and clean environment, St. Peter's Urgent – Saratoga Springs will provide care for patients of all ages suffering from an illness and or injury that would benefit from some immediate attention, but is not severe enough for a trip to the hospital emergency room.
Available services include lacerations and wound care, foreign body removal, abscess drainage, fracture and injury care, intravenous hydration and medication administration, and tetanus and influenza immunization.
On-site lab services are available to help ensure a patient's diagnosis is made swiftly and accurately. In addition to x-ray and diagnostic imaging services, St. Peter's Urgent – Saratoga Springs offers rapid testing for strep throat, influenza, mononucleosis, urinary tract infection, pregnancy, blood sugar, fecal occult blood, and tuberculosis screening.
Please click here for additional information. After August 13, the practice may be reached at 518-430-2757.