LiveSmart: Eat Right for Healthy Eyes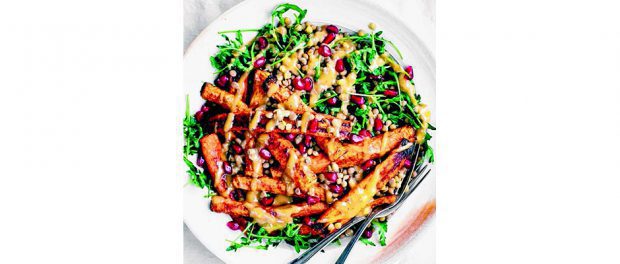 [This piece was written by Emily Moore, RD, CDN, Inpatient Dietitian with St. Peter's Hospital and Outpatient Dietitian with St. Mary's Hospital.]
Nutrition plays a vital role in eye health. Keeping your eyes healthy is important in preventing cataracts, age-related macular degeneration and night blindness.
Important nutrients for eye health are the antioxidants zeaxanthin and lutein, vitamin E, vitamin A, and omega 3 fatty acids. Foods that are rich in these nutrients include citrus foods, whole grains, dark leafy greens, vegetable oils such as flaxseed oil, soybean oil and canola oil, nuts and seeds and cold water fish such as salmon, mackerel, tuna, herring and sardines.
It is important to include some of those eye healthy foods in your diet daily. For a nutrient packed meal, try the recipe below.
Roasted Carrots and Sweet Potatoes Tahini Quinoa Salad

Recipe modified from https://www.occasionallyeggs.com

Prep Time: 10 minutes

Cook Time: 25-30 minutes

Servings: 2

Ingredients:

½ cup quinoa
7-8 medium carrots halved lengthwise
1 medium sweet potato peeled and cut into ½ inch pieces
½ cup pomegranate seeds
1 tsp. olive oil
½ tsp. pepper
½ tsp. cayenne pepper to taste (optional)
2 cups total of spinach and kale

 Tahini Vinaigrette:

2 Tbsp. olive oil
2 Tbsp. balsamic vinegar
1 tsp. tahini
1 tsp. Dijon mustard
¼ tsp. maple syrup or honey
1 clove minced garlic

Directions:

Cook quinoa according to directions on the back of package. Once finished cooking, set aside to cool.
Preheat oven to 375 degrees Fareinheit. Toss the carrots and sweet potatoes in olive oil and spices until the vegetables are coated. Spread out on a baking sheet and bake until they are softened, about 25 to 30 minutes.
While the vegetables are roasting, add tahini vinaigrette dressing ingredients to a bowl and whisk together.
To serve, place spinach and kale on a plate, add the roasted carrots and sweet potatoes, quinoa and pomegranate seeds. Drizzle the tahini dressing and serve immediately. Enjoy!