Norman Dascher Presented Piece of School of Nursing History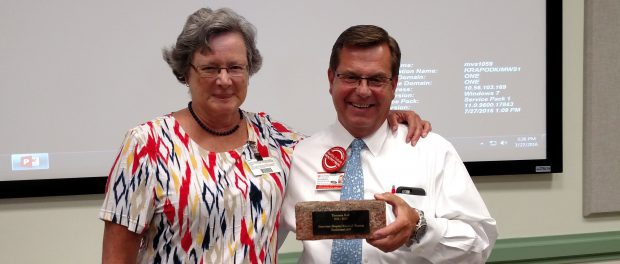 It was a historic moment at the July Acute Care Troy Leadership Meeting as Susan Birkhead, director of the Samaritan Hospital School of Nursing, presented Norman Dascher, chief executive officer of Samaritan and St. Mary's hospitals, a commemorative brick.
The special brick was saved from the now demolished part of the Samaritan building which housed the nursing school for the last century. The school was first established in 1899 at another location before it relocated to its home at Samaritan for the last 100 years. The school expanded and relocated to the St. Mary's campus last year.
Additional commemorative bricks are available for $25 each. Please contact Susan.Birkhead@sphp.com if you are interested in purchasing a piece of that history.