Clothing and Compassion: St. Peter's Thrift Shop Offers Help and Inspiration to Those in Need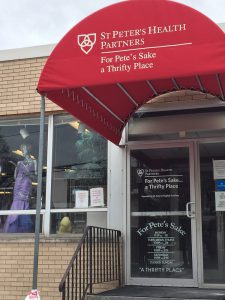 Tucked away under a red awning on the corner of South Allen Street and New Scotland Avenue, sits a hidden gem in the Albany community. For Pete's Sake – A Thrifty Place is the thrift store operated by St. Peter's Hospital. Not only can you find quality clothing and household goods at low prices, you can also find something that is priceless: a sense of family, compassion, and generosity.
"We have people that come back all the time. They just like coming in and talking to us," said Norine Richardson, one of the more than two dozen volunteers who make up the store's staff. She has been donating her time for the past 12 years.
"I love the camaraderie with the people I work with," Richardson said. "I especially like working with the people. They are so overjoyed when they find something they like, and it just makes me feel good that we have it and are able to give it to them."
For Pete's Sake – A Thrifty Place began as a small store for employees in the basement of St. Peter's Hospital back in 1971. Since that time, it has tripled in size. The store celebrated its twelfth year in its current home at 583 New Scotland Avenue in May.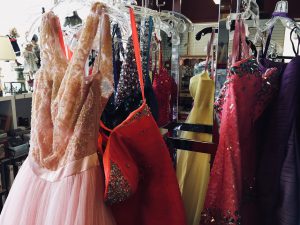 The shop offers gently used clothes, including many high-end labels, and even prom dresses and tuxedos. If you are looking for household items like kitchen utensils, plates, or glasses, they have those, too.
"We're accessible. I always say, come here first before you go to the mall," Richardson said.
While the store is open to the community, its main mission is serving the patients of St. Peter's Hospital. More often than not, that means helping someone in need.
Margery Kirsch, the lead volunteer at For Pete's Sake, says patients often come in and refer to the store as the "St. Peter's Macy's." "For many of these people," said Kirsch, "it is the only place they can afford to go."
A program led by the Office of Volunteer Services at St. Peter's Hospital, enables social workers, nurses, and information associates to provide vouchers for the store to patients in need. The vouchers, provided in increments of $5, allow these patients to purchase essential items following a hospital stay.
"In some cases, patients are homeless and they really need everything. We can give them a winter coat, a few pairs of pants, and a couple of shirts," said Jane Norris, director of volunteer services for St. Peter's Hospital. "Other times, the clothing is just to get a patient from point A to point B, because they arrived at the hospital without anything on, or just with a light nightgown on, and now they're going to a rehab center or an assisted living center, and understandably they don't want to travel wearing only a hospital gown."
This compassion and respect for patients exemplifies St. Peter's Health Partners' commitment to reverence and standing with those who are most vulnerable, Norris said.
Barbette Davis, a patient care technician at St. Peter's Hospital, has handed out dozens of the vouchers.
"I see desperate patients. I see needy patients. I see wanting-to-change patients," said Davis. "And over there is the best place to get them started and get them nice, fresh, clean clothes."
"Clean clothes is one of those most basic, confidence boosting items that the patients may need to move forward with their recovery," said Megan Spagnola, a behavioral health counselor at St. Peter's Hospital.
Spagnola and Kirsch agree: the voucher system has made, and continues to make, a real difference in the lives of St. Peter's Hospital patients.
"We can go over there with a couple of vouchers and send someone to a program, or back home with enough clothing to make them comfortable for a couple of weeks, which is really great," said Spagnola.
Added Kirsch, "Not only are we helping in a capacity of need, we are also giving them some place that they can come. We are honoring the sacredness and dignity of every person."
Operated by the St. Peter's Auxiliary, For Pete's Sake – A Thrifty Place, funnels all of its revenue to hospital projects, including the Vials for Life program, as well as other programs supporting breast cancer patients and new mothers.
St. Peter's Hospital is part of St. Peter's Health Partners, a member of Trinity Health.