Congratulations to the 2017 Class of "13 Kids Who Care"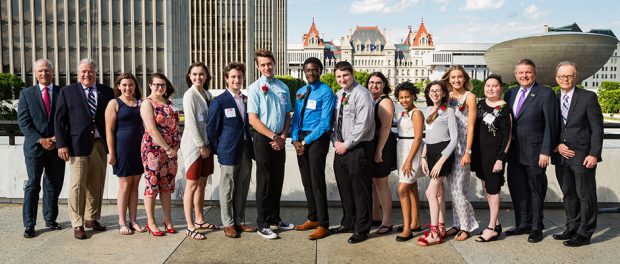 The Honorable Patricia Fahy, New York State Assemblymember representing the 109th District, joined officials from WNYT-NewsChannel 13, St. Peter's Health Partners (SPHP), and the Times Union on June 1 at the New York State Museum to recognize "13 Kids Who Care" – children and teens from throughout the Capital Region whose volunteer efforts make the region a better place to live.
The ceremony was the culmination of a very special series on WNYT to honor and reward young persons who go out of their way to volunteer and help their community. Their involvement "touches the lives" of people in the Capital Region and improves the quality of life in its communities.
The 13 honorees were chosen from nearly 60 nominations submitted by Capital Region residents in January and February. Particular emphasis was given to selecting teens whose efforts included helping the disadvantaged, disabled, or at-risk youth.
WNYT News Chief Meteorologist/Reporter Bob Kovachick highlighted one of the 13 young people every Monday since March on NewsChannel 13's "Live at Six" news broadcast.
Joining Fahy, Kovachick, family members, local dignitaries, and Capital Region school administrators and teachers in honoring the "13 Kids" were WNYT General Manager Stephen Baboulis, SPHP President and Chief Executive Officer James K. Reed, M.D., and Times Union Associate Editor Mike Spain.
"Through their caring, drive, and community service, the 13 Kids Who Care are making the Capital Region an even greater place to live and work," Reed said. "These remarkable students demonstrate they understand the key to a healthy community is compassion – neighbor helping neighbor – and providing assistance and a friendly smile when it is needed most."
In addition to being honored at the ceremony, each student received a $500 contribution from the sponsoring organizations to be given in the youth's name directly to the local charitable organization of his/her choice.
The following are the Capital Region young people who were chosen as "13 Kids Who Care":
Mat Adler
Albany High School
Isabella Anziano
Waterford-Halfmoon High School
Jahmale Dickson
Catholic Central High School
Ella Gibbs
Robert C. Parker School
Shane Hotaling
Taconic Hills Central School
Makayla Hulett
Colonie Central High School
Kelsey Kittleson
Averill Park High School
Deanna Lebel
Queensbury High School
Marleah Lybolt
Columbia High School
Brigid Mack
Gardner Dickinson School
Theodore Nugent Jr.
Greenville Central School
Brianna Roberts
Giffen Memorial Elementary School
Michael Wais
Coxsackie-Athens Central School
To watch footage from the event, as well as Kovachick's segments on each of this year's 13 Kids Who Care, please visit: http://wnyt.com/13kids
To view a gallery of photos from the event, visit St. Peter's Health Partners' Facebook page by clicking HERE.