SPHP Reports Zero COVID-19 Inpatients in its Hospitals for First Time Since the Beginning of Pandemic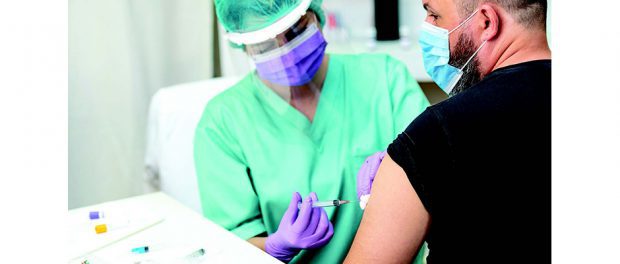 On June 30, 2021, St. Peter's Health Partners (SPHP) reported zero COVID-19 inpatients in its acute care facilities – a first since the pandemic began more than a year ago.
Steven Hanks, M.D., chief clinical officer for St. Peter's Health Partners, has led the health care system's COVID-19 response since the first local cases of COVID-19 were identified in March 2020. He expressed gratitude for the tireless efforts of SPHP's frontline workers during the pandemic and praised vaccination efforts both across the SPHP system of care and throughout the Capital Region.
"Despite innumerable challenges, our colleagues never wavered in their dedication to their patients, and to one another," said Dr. Hanks. "They persevered and were among the first to roll up their sleeves and get vaccinated to further protect themselves and their community."
While he acknowledged great strides have been made in combating COVID-19, Dr. Hanks said the battle against COVID is far from over. He stressed the importance of remaining vigilant, especially with the fast-spreading Delta variant now detected in at least 85 countries around the world, including the United States.
"While we celebrate having no active COVID cases currently in our hospitals, we know that will likely change in the days ahead. I cannot stress enough: If you have not yet gotten vaccinated against COVID-19, now is the time to do so," said Dr. Hanks. "We know these vaccines are safe and reduce the chance that you could become seriously ill or end up in one of our hospitals. Having that protection will be critical in the months to come."
On Monday, the New York State Department of Health announced 172 total Delta variant cases in the state to date, including one case in Ulster County. The Centers for Disease Control and Prevention labeled the Delta variant a 'variant of concern' due to its high rate of transmissibility.
For information on vaccination and vaccination clinics, check New York state's website "Am I Eligible" for an updated list of community sites with vaccine doses and accepting appointments. If you don't have access to a computer, New York state also has a COVID-19 Vaccination Hotline which eligible New Yorkers can call to schedule a vaccination appointment at 1-833-697-4829. Walk-ins are also now welcome at state-run facilities. For vaccine FAQs, visit https://www.sphp.com/health-and-wellness/coronavirus-vaccine/.
About St. Peter's Health Partners
With 11,000 employees in more than 170 locations, St. Peter's Health Partners is one of the Capital Region's largest and most comprehensive not-for-profit integrated health care networks, and provides high-quality, compassionate, and sophisticated care to thousands of people every day. St. Peter's Health Partners is a member of Trinity Health, one of the nation's largest Catholic health systems. For more information, please visit www.SPHP.com.