St. Mary's New Cancer Treatment Center Opens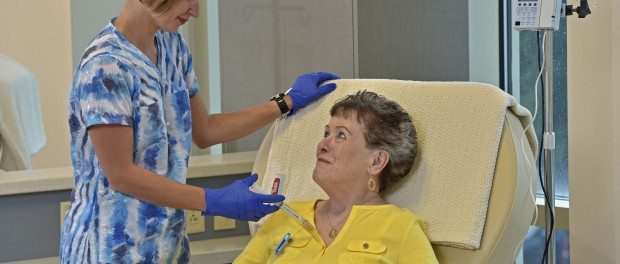 St. Peter's Health Partners (SPHP) today unveiled the new St. Mary's Cancer Treatment Center, a new cancer center specially designed for and by cancer patients. The opening of the new center is part of SPHP's Troy Master Facilities Plan (MFP), a strategic multi-phase plan aimed at transforming the future of health care in Troy, Rensselaer County and the surrounding communities.
Funded solely through donations, the new St. Mary's Cancer Treatment Center will provide comprehensive medical oncology, hematology and infusion services, a patient navigation program, genetic counseling, and a variety of integrative wellness programs.
The opening of the new center is another step in SPHP's comprehensive Troy MFP designed to enhance St. Mary's as an ambulatory campus to provide vital outpatient services to the community, while Samaritan Hospital – the former site of the Cancer Treatment Center – will continue to offer state-of-the-art radiation oncology treatment and other care services. Following the completion of the MFP in 2017, Samaritan Hospital will serve as the single, inpatient facility for the Troy and Rensselaer communities.
"Cancer is a devastating disease, and the odds are that you know someone whose life has been touched, or taken by cancer," said Norman E. Dascher, chief executive officer of St. Mary's and Samaritan hospitals, and vice president of Acute Care Troy for SPHP. "We are very proud to open a new center specifically designed to meet the needs of individuals in the Capital Region who have been diagnosed with cancer. Triple the size of its former location, the new center will allow for expanded programs as well as new services and amenities. Our goal is to offer every advantage to every cancer patient as we help them defeat this horrible disease."
"This center is for our cancer patients, by our cancer patients," said Sabrina Mosseau, administrative director of the Cancer Treatment Center, Women's Health Center, and Cancer Services Program for Acute Care Troy at SPHP. "Our mission as we designed the new center was to create a calm and soothing environment that would fulfill all the needs of our patients who are diagnosed with cancer. So we went to our patients for input and many of our new features actually reflect their invaluable ideas. This center will no doubt help us advance the high quality of care we provide to cancer patients as they battle the disease."
The new center opens to patients on June 15. The center features spacious exam rooms, a friendly concierge station to direct patients to the services they need, and an activity area where the children of patients can play. It also offers many other special rooms and services, including:
Chemo rooms specially designed by chemo patients – with comfortable, heated seats and ample space to accommodate a friend or family member; two private infusion suites offer privacy for those in need of extended treatments.
A complement of integrative wellness programs, including healing touch therapy, therapeutic massage, nutritional counseling, healthy cooking classes and yoga classes; programs are offered to patients free of charge thanks to a generous donation from the Karen L. Mosseau Fund.
A library offering access to a variety of educational materials and online information, and access to tablets and iPads for patients to use so they can watch a movie, read a book, listen to music, or browse the internet during extended treatment sessions;
A convenient, on-site retail shop offering cancer support services (such as getting properly fitted for a wig) and related products for purchase (such as a mastectomy bra);
A nutritional center with healthy snacks and beverages for patients;
Community space to accommodate support group meetings and education classes, including The Thrivers Connection, an educational program sponsored by the Nancy B. Clemente Fund to help individuals living with cancer improve their quality of life and better live with their disease.
SPHP first announced its Troy MFP in November 2012. In addition to the new Cancer Treatment Center and other outpatient services at the St. Mary's campus, the Troy MFP project includes the construction of a new patient pavilion at the Samaritan Hospital campus, featuring a new, expanded emergency department; intensive care, progressive care, and medical/surgical beds. Additionally, a 550-car parking garage is being erected at the Samaritan campus and will open in August. The MFP is targeted for completion in 2017.