The Glen at Hiland Meadows Breaks Ground for $27.6 Million Project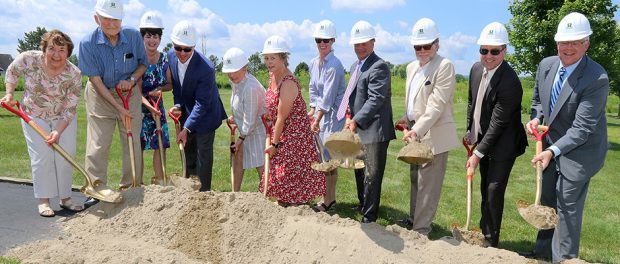 The Glen at Hiland Meadows, the north country's premier senior living community, today held a groundbreaking ceremony for its $27.6 million expansion and construction project located on its 45-acre Longview Drive campus in Queensbury.
Sponsored by two of the region's most trusted names in senior care and services — The Conkling Center (formerly The Glens Falls Home) and The Eddy, a member of St. Peter's Health Partners – the project will expand Independent Living with a 41,000-square-foot addition featuring 28 new apartments; and a new 4,700-square-foot Wellness Center with a pool for all residents. Additionally, The Glen will build a new 25,000-square-foot freestanding Memory Care Center with 30 units for individuals with early to mid-stage dementia or other memory impairment – all on its existing 45-acre campus off Longview Drive. A market study had identified a severe lack of memory care services in the area.
The Glen, which opened in 2001, already offers unparalleled senior living with 74 independent one- and two-bedroom apartments, 18 independent two-bedroom cottages, and 42 Enhanced Assisted Living apartments at The Terrace at The Glen.
"We're truly excited to kick off the construction for this great project which will serve both residents in our Glen community as well as seniors in the greater Warren County region and surrounding area communities," says Andrea Hebert, vice president of Eddy Senior Living and executive director of The Glen at Hiland Meadows. "As leading providers of high quality senior care, we're proud that so many seniors have chosen to make our Independent Living and Enhanced Assisted Living residences their home all these years and we look forward to being able to provide additional services for a greater number of residents in our area."
"Several years ago, The Glen commissioned research and discovered a significant need for memory services in our region, and since then, The Glen has been driven to address those needs. The vision is a free-standing center for memory care that will both serve as a residence for those with memory impairment, and a resource center for the area and community-at-large," says Mary Farr, president of the Board of Directors. "In partnership with The Eddy's memory care team, The Glen will lead this mission and fill the void for memory care services for those who need it."
Eddy Memory Care at The Glen will feature a specialized state-of-the-art facility designed for individuals with Alzheimer's or memory care impairment in mind. The center will offer a supportive environment with a culture of care that enhances quality of life for those with cognitive impairment. Unique elements will be included in the design to meet each individual resident's physical, spiritual, psychosocial and recreational needs, such as:
resident-focused flexible activity spaces throughout the building;
home-like kitchen with secure prep area;
extensive secure outside walking areas with purposeful landscape and activities geared toward memory care;
lighting, sound and aroma sensory planning for memory care;
internal "porches" that connect indoor and outdoor environments for use during inclement/cold weather conditions;
24-hour medication management, supervision, and care.
Additionally, all staff at the new center will receive specialized dementia training from The Eddy's Memory Care Team, including a nationally certified dementia care trainer, with an emphasis on quality of life for residents.
A 2016 market study conducted by the former Murdock Integrated Strategies for Senior Living marketing firm (now GlynnDevins), determined there is a short supply of memory care beds in Warren County, under-bedded by more than 100 units for memory care.
The Eddy currently offers two Memory Care Centers in the region which are nationally recognized models, having achieved a level of care and programming not exhibited elsewhere – at Marjorie Doyle Rockwell Center in Latham, and at Eddy Hawthorne Ridge in East Greenbush.
Completion of all components is expected in Spring/Summer 2022. Sano-Rubin Construction Services of Albany is the developer, with Richard E. Jones Associates of Queensbury as the architect for the independent living and wellness center expansions. Architecture+ of Troy is the architect for the new memory care building.
About The Eddy
The Glen at Hiland Meadows is a part of The Eddy Senior Living network committed to meeting the forever changing needs of our seniors and their families. Eddy Senior Living comprises of Independent and Enriched Housing/Assisted Living communities serving six locations throughout Upstate New York in Troy, Cohoes, Slingerlands, Niskayuna, Queensbury and East Greenbush. The Eddy began in 1928 as a 19-bed nursing home and has grown into a comprehensive continuum of healthcare, supportive housing, and community services that reaches 22 counties and serves more than 40,000 people yearly. The Eddy's services help maximize quality of life, dignity and independence. The Eddy is a member of St. Peter's Health Partners – a not-for-profit integrated health care network with more than 12,000 employees in more than 170 locations. For more information, please visit www.eddyseniorliving.com/.
About The Conkling Center
The Conkling Center (formerly The Glens Falls Home, Inc.) was incorporated in 1898 to provide residential services for aging women and operated a home for aged women on Warren Street in the City of Glens Falls for more than 100 years. The organization formed a partnership with The Eddy to develop and build The Glen at Hiland Meadows, which opened in 2001. The Glen at Hiland Meadows Board of Directors includes both The Eddy and Conkling Center members, retaining a sense of history and legacy for senior care in the area. Today, The Conkling Center offers senior directed programs and services for community members 55+, including the On-The-Go Transportation Program, Ice Melt Program, and a variety of community awareness, health and safety, legal, educational and inter-generational programs. For more information, please visit www.theconklingcenter.org.