LiveSmart: Diabetes – Know the Myths, Reduce Your Risk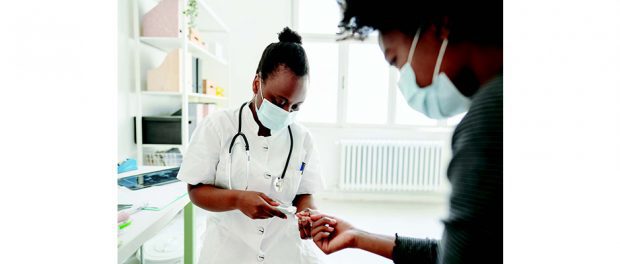 [This article was written by Lynn Sutton, RD, CDN, CDCES, Supervisor/Program Coordinator, St. Peter's Diabetes & Endocrine Care, Diabetes Education Program.]
November is Diabetes Awareness Month and the theme this year is "Today's Diabetes Hits Different." There are more than 37 million people in America with diabetes, most with Type 2 diabetes.
Diabetes is a chronic disease where the body cannot make or use insulin well. This results in elevated blood glucose which, if not treated with diet, exercise and possibly medications, can lead to multiple health complications.
There are many myths surrounding diabetes, which can lead to misunderstanding, miscommunications, and dangerous behaviors.
Myth #1: If you have a family history of diabetes you will have diabetes, there is nothing you can do about it.
Fact: People with a family history of diabetes are at a greater risk of developing the disease. Diabetes can be prevented or, if you have prediabetes, the progression to diabetes can be avoided or significantly slowed by eating a healthy diet, exercising, and reaching and maintaining a healthy weight.
Myth #2: Eating too much sugar will cause diabetes.
Fact: Eating sugar will not cause diabetes. Sugar-sweetened beverages and a diet that is high in concentrated sweets may result in obesity, which puts you at risk for Type 2 diabetes.
Myth #3: If you have diabetes you have to eat sugar-free cookies, candy, or ice cream.
Fact: While sugar-free cookies, candy and ice cream may not have added sugar, they still have carbohydrates from starches and thickeners. They also may have more salt and fat than the original sugar-sweetened sweet, which can cause issues with weight and cardiovascular health.
Myth #4: If you have diabetes, you cannot eat sweets.
Fact: There is no food off limits to those with diabetes. Our bodies reduce all carbohydrates to glucose, which our cells use for energy. Whether a carbohydrate is in an orange or orange gummy candy, they will both be reduced to glucose. However, the orange may have a slower and lower impact on blood glucose than the candy, and of course, the orange will have more nutritional value.
Myth #5: All people with diabetes will eventually have to take insulin.
Fact: People with Type 1 diabetes no longer make insulin and must replace it with insulin from insulin pens or pumps. There are those with Type 2 diabetes that need insulin to reach and maintain blood glucose (sugar) in healthy parameters. Many people with Type 2 diabetes manage diabetes with non-insulin medications that are taken orally or as a once-weekly injection.
Myth #6: My mother had diabetes and used insulin that caused her to have her leg amputated. If I start insulin that will lead to amputations.
Fact: Getting and maintaining blood glucose in healthy parameters is important. Fasting blood glucose < 130 mg/dL; two hours after meals < 180 mg/dL; and a hemoglobin A1C (three-month average) < 7% will significantly reduce risk of complications related to diabetes, such as amputations. For some people with diabetes, using insulin is necessary to reach and maintain those healthy parameters.
At St. Peter's Diabetes and Endocrine Care, our multi-disciplinary team of endocrinologists, advanced practitioners and Certified Diabetes Care and Education Specialists are dedicated to helping individuals with diabetes and other endocrine and metabolic disorders improve their quality of life.
Our specialized services include complication screenings; prevention and treatment; medication management; foot care; onsite HbA1c testing; nutritional counseling; support groups; and individual and group education classes, including our free, virtual "Prevent T2" diabetes prevention program. For information, call 518-471-3636.