Winter Warmth – Enjoy Hearty, Healthy Tuscan Chicken Soup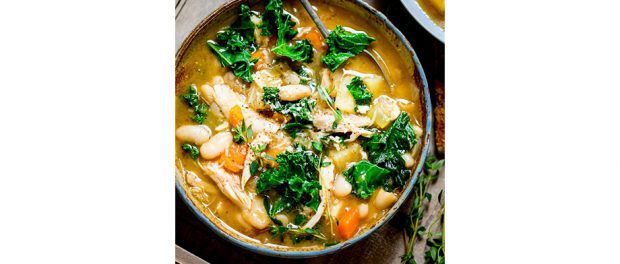 On winter days when the temperature barely gets above freezing, what better way to warm up than with a bowl of soup? Chowders, chilis, bisques, and broths – the possibilities are endless!
Canned soups are loaded with sodium, some with a thousand or more milligrams, as well as other preservatives. When you make soups from scratch, you control the amount of sodium and can increase the nutritional quality by adding more vegetables, lean protein, and fiber.
One of our favorite homemade soups is this Tuscan-style chicken soup, courtesy of the creative folks at Kitchen Sanctuary. Enjoy!
Tuscan-Style Chicken Soup
By: Nicky Corbishley
Prep time: 15 mins
Cook time: 45 mins
Ingredients
1 tbsp olive oil
1 onion – peeled and chopped
2 cloves garlic – peeled and minced
2 sprigs fresh thyme or ½ tsp dried thyme
1 stick of celery – sliced
2 medium carrots – peeled and chopped
2 medium potatoes – peeled and diced
4 cups + 3 tbsp chicken stock
½ tsp salt
½ tsp black pepper
14 oz cooked cannellini beans – washed and drained
2 skinless cooked chicken breasts – shredded
2 packed cups chopped kale
Small bunch fresh parsley – chopped
2 tbsp finely grated parmesan
Instructions
Heat the oil in a large saucepan. Add the onion and cook for 10 minutes on a low-medium heat, stirring occasionally until softened.
Add the garlic and thyme and cook for a further 2 minutes. Add the celery, carrots and potatoes, stir, then add in the chicken stock, salt and pepper. Bring to the boil, then simmer for 20 minutes.
Add in the drained cannellini beans and cook for a further 5 minutes
Add the shredded chicken and heat through for 2-3 minutes, then add the kale. Stir and simmer for 1-2 minutes until the kale has wilted. Test and season with more salt and pepper if needed.
Divide between four bowls, topped with fresh parsley, grated parmesan and a couple of sprigs of fresh thyme. Serve with some toasted granary bread.