150th Anniversary of St. Peter's Hospital – Celebrating Service with Our Colleagues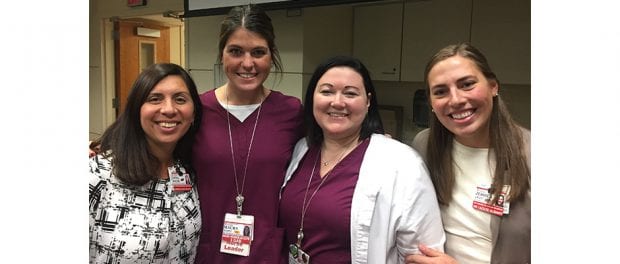 Colleagues gathered to celebrate the 150th anniversary of St. Peter's Hospital at an afternoon reception at the hospital on Wednesday, November 6, 2019.
The gathering capped several days of celebration of the momentous occasion, which kicked off on November 1, 2019 – the actual date of the founding of the hospital – with the unveiling of an expanded Wall of History documenting St. Peter's legacy of community service to the Capital Region.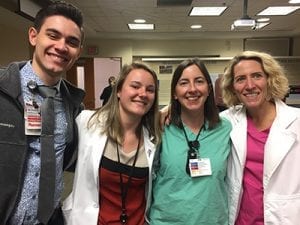 Two new eight-foot history panels, which were unveiled during the Friday event, were temporarily erected in the hospital's Mercy Conference Rooms for staff to review and admire. The new additions chronicle the past 15 years in the institution's history.
They will be permanently installed on November 13 as part of the full, 13-panel, 100-foot-long Wall of History that lines the walkway leading from St. Peter's Hospital's main parking garage to the upper floor of the Massry Family Atrium. The Wall of History highlights major milestones that collectively have positioned St. Peter's Hospital as one of upstate New York's largest and most respected healthcare providers.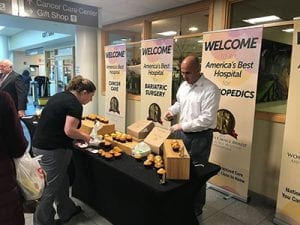 The anniversary was also recognized at a 150th Anniversary Mass held on Sunday, November 3, at the Cathedral of the Immaculate Conception in Albany. Staff were also treated to muffins and coffee the morning of Monday, November 4.
The events were a collective effort to pay tribute to the four Religious Sisters of Mercy who founded St. Peter's Hospital on All Saints Day, November 1, 1869, and their successors who provided the vision and mission for St. Peter's to become a transforming, healing presence in the Capital Region.
"The Sisters of Mercy's mission to heal the sick while treating all persons with dignity and respect set this hospital on a path of healing and compassion," said Dr. James Reed, M.D., president and CEO of St. Peter's Health Partners. "It is a path that has guided us for 150 years, and continues to guide us every day."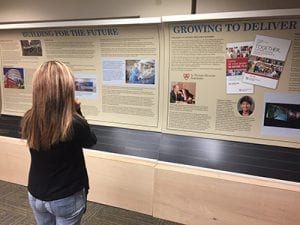 "St. Peter's Hospital would not be the respected leader it is today without the dedication of the tens of thousands of people who built this institution and continue to further its legacy. They include our current employees, medical staff, board members, auxiliary and volunteers. They have all given the gift of their talents and have worked with great pride to extend the legacy of the Sisters of Mercy each day," said Mike Finegan, Acute Care President.