Albany Memorial Hospital Congratulates 2016 Nurse Physician Award Winners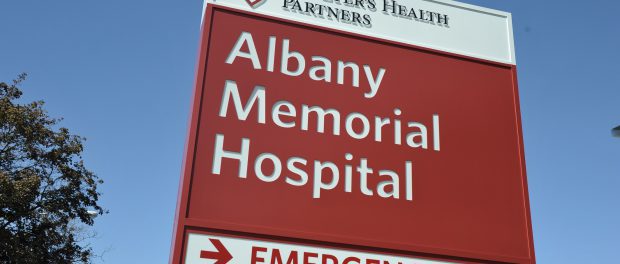 Congratulations to the recipients of the 2016 Nurse Physician Awards at Albany Memorial Hospital who were recognized at a celebration held on June 1 at the Hilton Garden Inn in Troy:
The Albany Memorial Nursing Medical Staff recognized Chrystal Price, D.O., and Hani Marar, M.D., with the "2016 Awards for Caring, Collaboration and Communication."
Board-certified in hospitalist medicine, Dr. Price joined Albany Memorial as a hospitalist in 2014. She is described as "an outstanding doctor who defines caring, collaboration and communication," and who genuinely cares for all her patients. Dr. Price is also cited for her kindness and compassion not only for her patients, but their families, and the nurses with whom she works.
Board-certified in medical imaging, Dr. Marar joined Albany Memorial in 1988. He is described by the nursing staff as "going above and beyond, demonstrating the love for his passion, and the vision and values of Albany Memorial Hospital." He is kind, caring and humble, and treats everyone with dignity and respect. Dr. Marar is also cited for being an excellent teacher, a "true mentor," and an inspiration to all those with whom he has worked.
The Albany Memorial Physician Medical Staff recognized Darcy Delorenzo, R.N., 4th floor telemetry, and Carrie Dwyer, R.N., emergency department, with the "2016 Nurse of Distinction Awards."
Delorenzo was cited as a "nurses' nurse" who cares for each patient as an individual, and serves as a great resource for new nurses. She began her career at Albany Memorial Hospital in 1996 after attending the Samaritan Hospital School of Nursing. Through the years, she has achieved an accomplished repertoire that includes experience in medical/surgical, oncology, and telemetry. Delorenzo has also twice been the recipient of the Albany Memorial Nursing Student's "Nurse of Choice Award," and the "I Made a Difference Award."
Dwyer was commended for her outstanding performance and contributions to patient care in the emergency department at Albany Memorial. She graduated from the Samaritan Hospital School of Nursing in 1979. The physician staff cites her as having first-rate clinical skills and a compassionate bedside manner — caring for both patients and their family members. Colleagues describe Dwyer as "a patient advocate and excellent team player who does it all with a smile!"
Congratulations to all!