Samaritan Hospital Congratulates 2016 Nurse Physician Award Winners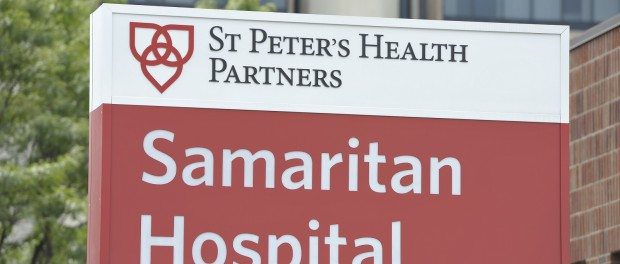 Congratulations to the recipients of the 2016 Nurse Physician Awards at Samaritan Hospital who were recognized at a recent celebration held at the Hilton Garden Inn in Troy:
The Samaritan Hospital Nursing Medical Staff recognized Racheal Paige, N.P., and Richard Eglow, M.D., with the "2016 Awards for Caring, Collaboration and Communication."
A nurse practitioner with the hospitalist group, Paige is described as a "local and home-grown girl" who grew up in Troy. She first began working at Samaritan as a registration clerk, and later, as an ICU (intensive care unit) nurse before earning her nurse practitioner's degree in 2014. Colleagues say she is professional, kind, and considerate to both patients and staff. Caring runs in Paige's family — her mom, Anne, once worked at Samaritan's emergency department, and Paige's husband, Dr. John Paige, also currently works at Samaritan's ED.
A gastroenterologist at both Samaritan and St. Mary's hospitals since the early 90s, Dr. Eglow earned numerous nominations commending him for the care and compassionate he shows to his patients. One noted that "he laughs with the well, holds hands and explains every little detail with the sick, and grieves with the families who have lost their loved ones."
The Samaritan Hospital Physician Medical Staff recognized Doreen Fitzgerald, R.N., surgical services, and Beverly Stewart, R.N., emergency department, with the "2016 Nurse of Distinction Awards."
Fitzgerald has been with the organization for 35 years, with the last three decades working in surgical services in our ambulatory unit. She is lauded for always putting her patients first and advocating for them. In fact, she goes out of her way to ensure that patients have a great experience, and it shows in our patient satisfaction surveys which often single her for her excellent care.
Stewart first joined Samaritan in 2006 as a central registration clerk and worked weekends in the emergency room while attending nursing school. Hired upon graduating in 2012, she is currently pursuing her bachelor of science degree in nursing. Stewart is commended for taking "exceptional care" of patients, being a great communicator and an outstanding team player. She is also cited for always willing to help out, and advocating for her patients.
Congratulations to all!