Colleagues GO PINK for Breast Cancer Awareness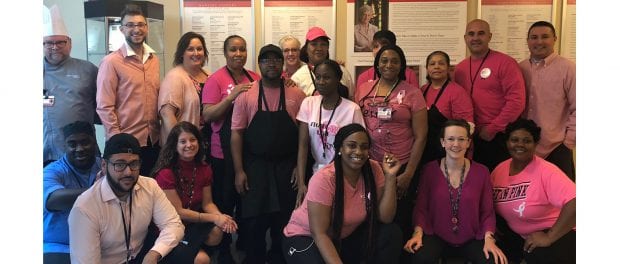 Colleagues in Food and Nutrition Services at St. Peter's Hospital wore pink today, in recognition of National Breast Cancer Awareness Month. Thank you to everyone who participated!
On Friday, October 19, all St. Peter's Health Partners colleagues are encouraged to show their support by wearing pink. Send us a photo of yourself or your team  – no patients! – wearing pink and we will post it to the SPHP Facebook page and SPHP Portal. Participate and help increase attention and support for the awareness, early detection, and treatment of breast cancer. Send photos to mary.obrien@sphp.com and please include names and work location.
Additionally, there will be a table on Main Street in St. Peter's Hospital from 11 a.m. to 1:30 p.m. on Friday, October 12, and Friday, October 19, with Go Pink t-shirts available for purchase for $15 each. Money raised will go to support the St. Peter's Health Partners team walking in this year's Making strides Against Breast Cancer event.
The walk will take place on the morning of Sunday, October 21. Click here to join the St. Peter's Health Partners Team.  To purchase a shirt or for questions, please contact Anne Lawton at Anne.lawton@sphp.com or 518-525-1827.
Learn more about breast health at: http://www.sphp.com/breast-health-sph