LiveSmart: St. Peter's Advancing Orthopedic Care for Hip and Knee Replacement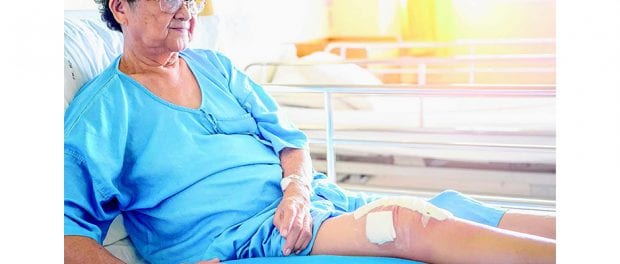 [This piece was written by Kelly J. Remancus, DNP, RN, orthopedic service line director, St. Peter's Hospital Joint Replacement Center.]
If you're one of the millions of Americans suffering with hip or knee pain, you know how debilitating it can be. Many manage their pain for years, working with their physician to determine what combination of medications, injections, weight loss, exercise, physical therapy and bracing offers the most relief.
When these become ineffective, your doctor may recommend surgery. The good news is hip and knee replacement no longer mean spending several days in the hospital, followed by a lengthy period of rest at home. Mobility – not rest – is the key to recovery.
At St. Peter's Hospital Joint Replacement Center, we are transforming patient care with our initiative Here Today. Home Tonight. It is based on the Enhanced Recovery After Surgery (ERAS) program, and is dramatically changing the recovery process for patients and families.
The program focuses on helping patients achieve their goal of returning to doing the things they love, pain-free, as quickly and safely as possible. This is accomplished through:
Pre-surgical optimization and counseling
Developing a detailed rehabilitation plan, pre-surgery
Developing improved hydration and diet plans
Working with physical and occupational therapists to get the patient up and moving soon after surgery
Combined, these approaches help accelerate recovery by reducing the patient's post-surgery stress, providing better support during the healing process, and enabling the patient to return home the same day as their joint replacement surgery.
From January 2017 to March 2018, the average percentage of our patients discharged to home following surgery was 94 percent, exceeding the national average, which ranged between 85 to 88 percent during the same timeframe. A successful discharge to home means reduced complications and readmissions to the hospital for the patient, and increased peace of mind for their families.
Ensuring patient safety is paramount to the ERAS program, so the process for selecting and screening patients is critical. Enrollment in the program is voluntary. The ideal candidate is a healthy, active individual who has the drive and determination to begin moving and walking soon after surgery. It is our team approach – including orthopedic surgeons, primary care, anesthesiology, physician assistants, nursing, case managers, pharmacists, and occupational/physical therapists – that makes it all possible.
St. Peter's Hospital Joint Replacement Center has been recognized annually since 2015 by U.S. News & World Report as a "Top Performing Hospital" in both hip and knee replacement. We are also proud to have been named as one of America's Best Hospitals for Orthopedics by the Women's Choice Award for 2018.
We routinely offer joint pain seminars to discuss arthritis, medications, and diet and exercise tips. To learn more about these seminars, please visit www.sphp.com/joint-replacement-sph or call 518-525-2-CARE.