Eddy Hawthorne Ridge Residents Help Bury 2020 COVID Time Capsule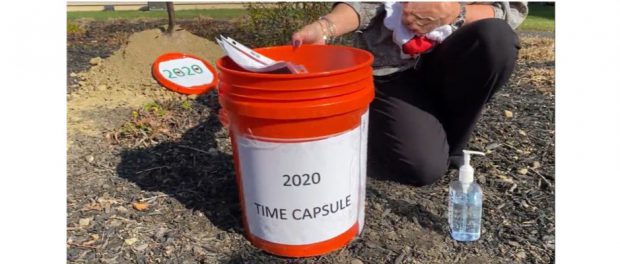 On Oct. 22, residents of Eddy Hawthorne Ridge, The Eddy's senior living community in East Greenbush, helped bury a special time capsule on campus as a way to commemorate the unprecedented times we have experienced this year as a result of the COVID-19 pandemic.
Residents and staff from The Terrace at Eddy Hawthorne Ridge assisted living residence brainstormed and collected symbolic items for the capsule. The items buried included a thermometer, wipes, sanitizer, a 6-foot tape measure (for proper social distancing), toilet paper, a "HawthorneStrong" hat and t-shirt, photos, a newspaper with a COVID-19 headline, a poem about the pandemic times, and a thumb drive with a music video chronicling the strength that residents and staff have shown.
The time capsule will be unearthed in 20 years.
Opened in 2006, Eddy Hawthorne Ridge is home to nearly 120 seniors. The beautiful 14-acre campus offers independent living for active seniors, Terrace assisted living for residents who need minor assistance with the activities of daily living, and Eddy Memory Care for residents with early to mid-stage memory impairment.