Anne Lawton Featured in CLYNK's "Change Stories"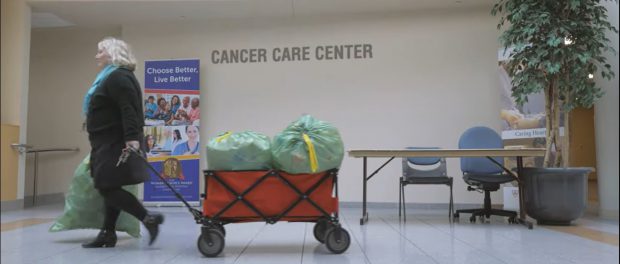 From empty can to spare change to compassionate care — Anne Lawton, RN, outreach nurse for the St. Peter's Hospital Cancer Care Center, has selflessly taken other people's trash and turned it into an inventive way to help our cancer patients.
Lawton has been collecting discarded bottles and cans for the past four years and redeeming them through CLYNK, a recycling company based out of Maine. Instead of having to manually feed them through a collection machine, consumers are able to redeem entire bags full of cans and bottles though the service. Lawton uses the funds she collects to purchase $25 gift cards for patients of St. Peter's Hospital Cancer Care Center.
"It's very meaningful," said Lawton. "Twenty-five dollars isn't much, but it's something, especially to patients who are going through a difficult time."
CLYNK recently featured Lawton's efforts in an eight-part video series titled, "Change Stories." The series, which was filmed in February 2020, highlights how some of the company's redemption customers are making change for themselves and their communities.
As Lawton explains in her video, the simple act of redeeming discarded bottles and cans has developed into something much more impactful.
"If we had a patient coming in who has prostate cancer and gets radiation treatment and he needs to get 30 treatments, that's 30 trips to the Cancer Care Center and if he lives 25 miles away, that's a lot of gas," explained Lawton. "We've had patients come in who didn't have shoes on their feet and to be able to give them a $25 dollar Walmart card from money we raised through CLYNK so they could get a pair of slippers or a pair of shoes, was really empowering."
St. Peter's Breast Center, surgeons from St. Peter's Breast Surgery, and the Medical Oncology and Radiation Oncology teams have all contributed to Lawton's collection, as have a number of other SPHP colleagues.
According to CLYNK, Lawton's efforts have diverted enough containers to fill 488 lobster traps; saved enough energy to light 60.6 lightbulbs 24 hours a day for a year; and saved the emissions equivalent of driving a car 11,465 miles. The difference she's made in the lives of our cancer patients? Immeasurable.
Watch Lawton's video below.