Local Girl Scout Troop Honors Founder's Memory with Gift to St. Peter's Newborn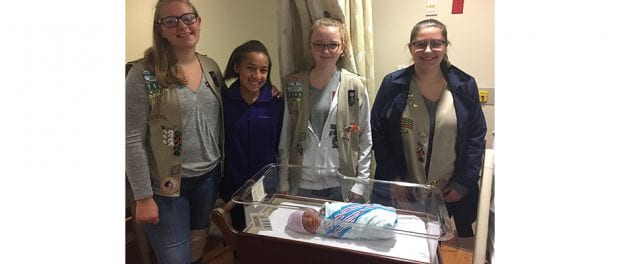 It was a very special treat for a newborn on St. Peter's Hospital's maternity floor this Halloween, when members of a local Girl Scouts troop paid her a visit in honor of their founder's birthday.
Members of Girl Scouts Troop 1165 in Troy visited St. Peter's Hospital on Wednesday, Oct. 31, to celebrate the arrival of Kimmylah Bethel-Boykin, the first girl born at St. Peter's that morning at 7:19 a.m. Kimmylah shares her birthday with Juliette Gordon Low, founder of the Girl Scouts of the USA. Low was born on October 31, 1860, and founded the Girl Scouts in 1912.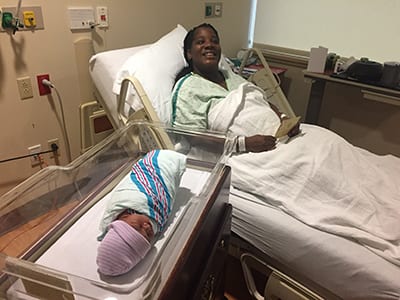 Troop members and their leader brought a gift to welcome Kimmylah to the world, which included a hand-made blanket emblazoned with the Girl Scouts logo and pictures of their iconic cookies; two hand-made bibs with the Girl Scouts logo; baby wipes; and assorted other essentials for baby and mom.
Kimmylah's mom, Charkissa Little, thanked the girls for their thoughtful gift, noting it would come in handy as she was not expecting her daughter to arrive until November 26. Even though Kimmylah was nearly a month early, she was a healthy 6 pounds, 12 ounces at birth, and mom said she was looking forward to introducing Kimmylah to her nine-year-old sister.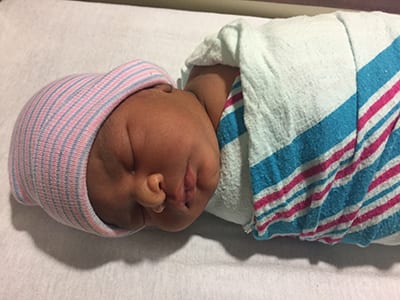 Troop Leader Jamie LaMora said the tradition of giving a newborn girl a present on the anniversary of their founder's birth was relatively new. She added that, although she was aware of instances where it had occurred nationally, she believed this was the first instance of such a visit in the Capital Region.
Earlier this year, St. Peter's received the 2018 Women's Choice Award as one of America's Best Hospitals for obstetrics for the fourth consecutive year. This follows last year's recognition as an international "Baby-Friendly" hospital, with St. Peter's being the first in the Capital Region to earn the designation.
To view a gallery of photos from the celebration, please visit the St. Peter's Health Partners Facebook page.