More Than 400 Backpacks of Hope Donated to Benefit Wellspring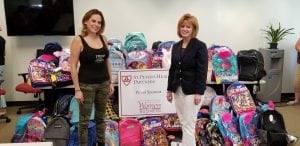 St. Peter's Health Partners is proud to have sponsored a record-setting year for Backpacks of Hope, a program of The Chamber of Southern Saratoga County's Women in Business (WIB) committee.
More than 400 new backpacks and enough school supplies to fill about 200 were donated this year.
Backpacks of Hope is part of the WIB committee's charitable initiative, Baskets of Hope, which benefits local families who seek help and refuge from Wellspring.
Every year since 2007, WIB committee members have gathered in August to fill new backpacks to aid Wellspring, the domestic violence services resource for Saratoga County residents.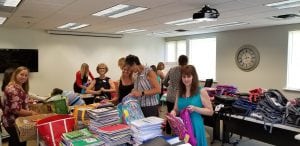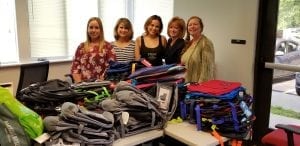 Donations of school supplies and women's essential care items are accepted year-round at The Chamber of Southern Saratoga County offices, located at 58 Clifton Country Road, Suite 102 in Clifton Park.
For further information on the Baskets of Hope program, contact Liz Roggenbuck at 518-371-7748.