MVP Donates Coats to SPHP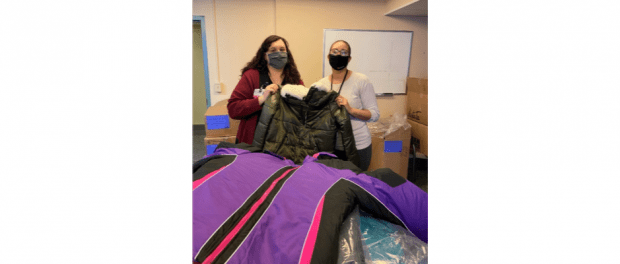 MVP Health Care has donated 200 brand new winter coats to St. Peter's Health Partners through their Coats for Kids program. The coats were distributed to several St. Peter's Health Partners Medical Associates practices including Cohoes Family Care, St. Peter's Health Center for Children, St. Peter's Family Health Center, and Troy Pediatric Health Center. Other recipients included SPHP Addiction Services on the St. Mary's Campus, Samaritan Behavioral Health, and St. Peter's Addiction Recovery Center – Guilderland Campus. Some of the donated coats were also distributed to the MOMS Program at Samaritan OB/GYN practices in Troy and Latham, which supports pregnant women through enhanced casework and nursing services.
The Coats for Kids program, now in its fifth year, collects new and gently used coats from the community to help area children stay warm through the winter.
Melissa Zapotocki, director of Community Health & Well-Being for SPHP, helped organize the distribution.
"Kids grow so fast and unfortunately, many families don't have the means to buy new coats every time their kids outgrow them. The economic struggles brought on by COVID-19 have made this an even greater issue this year," said Zapotocki. "Being able to give our patients something to help ease that burden means so much and we are grateful to MVP and to the community for this generous donation."