Kellie Valenti Named President of St. Peter's Health Partners Medical Associates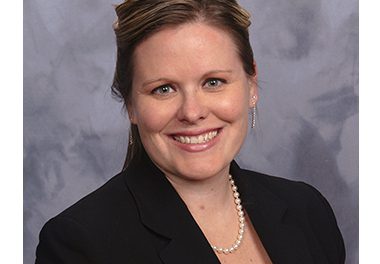 Kellie Valenti, MBA-H, FACHE was recently named president of St. Peter's Health Partners Medical Associates (SPHPMA). Kellie had served in the interim role since summer 2019, and had been the chief operating officer of the medical group since 2015.
In the permanent role as president, Kellie will work collaboratively with the executive leadership team of St. Peter's Health Partners and the board of directors of SPHPMA to continue to advance one of the largest and most successful physician groups in the Capital Region and within Trinity Health. As president, she will serve as an ex-officio member of the SPHPMA board and regularly report to the executive committee and board of directors for St. Peter's Health Partners (SPHP). In addition, Kellie will represent SPHPMA at the Trinity Health level.
"During Kellie's tenure with St. Peter's Health Partners Medical Associates, she has displayed a deep knowledge and appreciation for the opportunities and realities of delivering integrated, high-quality, and compassionate care to patients in physician-run practice settings," said Steven Hanks, M.D., MMM, FACP, FFSMB, chief clinical officer at SPHP. "We congratulate Kellie as she continues this important role, and continues to collaborate with physicians, advanced practitioners, and our colleagues throughout St. Peter's Health Partners."
In Kellie's five years at SPHPMA, she has been responsible for the daily operations and strategic planning for a multi-specialty physician practice group of more than 780 physicians at more than 90 locations. During her tenure, Kellie has overseen significant growth through multiple practice acquisitions and recruitment. Additionally, she has led efforts to improve and standardize efficiency of operations leading to financial stability of the group. Her efforts have resulted in building one of the region's strongest and largest multi-specialty physician groups. Additionally, her leadership has supported the overall system integration efforts at SPHP, supporting the acute care and continuing care divisions.
Prior to joining SPHPMA, Kellie served as the vice president of strategic planning for Ellis Medicine and chief operating officer for Ellis Medical Group.
Kellie graduated from Siena College, Loudonville, NY with a degree in Marketing & Management in 2003. She then earned her Master of Business Administration in Healthcare Management from Union Graduate College (now Clarkson University Graduate School) in 2005. In 2010, she was honored by the Albany Business Review's "40 Under 40," a recognition bestowed annually upon the region's top emerging business leaders. Kellie is a Fellow at the American College of Healthcare Executives.