Samaritan Hospital EMS Partner Honored for Heart Attack Care
An emergency medical services provider that transports all of its heart attack patients to Samaritan Hospital was honored this week for its dedication to patient care.
Norman Dascher, Jr., CEO of Samaritan Hospital and St. Mary's Hospital, and vice president for Acute Care Troy at St. Peter's Health Partners, participated in a ceremony on May 22 to celebrate the Bennington Rescue Squad's achievement.
At the ceremony, the American Heart Association (AHA) presented Bennington Rescue Squad with a Mission: Lifeline Gold Award for outstanding commitment to heart attack care. It was the first Mission: Lifeline Gold Award ever bestowed in the state of Vermont.
Bennington Rescue Squad has partnered with Samaritan Hospital – located about 40 miles southwest of Bennington – for several years. Instead of first being sent to a local hospital before transfer, patients picked up by ambulance in the Bennington area who have experienced a ST elevation myocardial infarction, or STEMI, are transported directly to Samaritan for immediate intervention.
STEMI is the most deadly type of heart attack, caused by a blockage of blood flow to the heart. To prevent death, it is critical to restore blood flow as quickly as possible.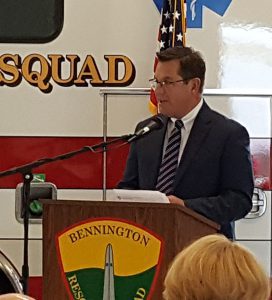 "It is an emergency where every minute counts," Dascher said. "We are in the business of saving lives, and we are thankful to have dedicated, knowledgeable, and effective Emergency Medical Service professionals like Bennington Rescue to partner with us."
Samaritan Hospital has an on-call protocol that ensures a cardiac catheterization lab staff and an interventional cardiologist are on call 24 hours a day, every day, and arrive at the hospital within 30 minutes of a heart attack diagnosis, said Cyrus Ferri, nurse manager of the Samaritan Hospital cardiac cath lab, who also attended the ceremony.
Thanks to the partnership, Bennington Rescue Squad alerts the Samaritan Hospital Emergency Department that a STEMI patient is en route. When the ambulance arrives in Troy a half hour later, Samaritan's expert team is ready to take the patient directly to the catheterization lab and begin treatment.
"The future of health care is in collaboration – to make sure a patient gets the best care possible – and our partnership with Samaritan Hospital is a true example of collaboration," said Forest Weyen, executive director of the Bennington Rescue Squad.
Last year, Samaritan Hospital received a Mission: Lifeline Bronze-Plus Receiving Quality Achievement Award from the AHA for the quick, high quality, and appropriate treatment the hospital provides to to STEMI patients, and in 2015 received national Chest Pain Center Accreditation from the Society of Cardiovascular Patient Care.