Samaritan Hospital Receives GWTG Silver Plus Award for Stroke Care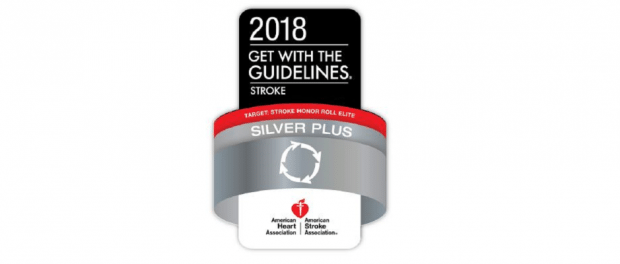 The American Heart Association and American Stroke Association have honored Samaritan Hospital, an affiliate of St. Peter's Health Partners, with its Get With The Guidelines (GWTG)–Stroke Silver Plus Achievement Award with Target: StrokeSM Elite Honor Roll. The award recognizes the hospital's commitment and success in ensuring stroke patients receive the most appropriate treatment according to nationally recognized, research-based guidelines based on the latest scientific evidence.
Samaritan Hospital earned the award for achieving at least 12 consecutive months of 85 percent of higher adherence to all GWTG-stroke achievement indicators, and 75 percent or higher compliance with five of eight GWTG-stroke quality measures.
The measures are evidence-based treatments known to result in improved patient outcomes. They include aggressive use of medications, such as clot-busting and anti-clotting drugs, blood thinners and cholesterol reducing drugs, preventive action for deep vein thrombosis and smoking cessation counseling. The program also includes best practice discharge protocols and real-time benchmarking capabilities to track performance, help patients manage their risk factors, and educate patients to recognize the warning signs of stroke.
"At Samaritan Hospital, our greatest reward is caring for our patients," said Norman Dascher, Jr., president of Samaritan and St. Mary's hospitals. "We are proud to receive this award from the American Heart/Stroke Association. The honor is a tribute to our physicians, nurses, and ancillary support staff, who work tirelessly to ensure the best outcomes for our patients."
Samaritan Hospital is proud to be designated a primary stroke center by the New York State Department of Health. The hospital developed a specialized Stroke Alert program to ensure that stroke patients coming to the emergency department receive prompt, coordinated stroke care and treatment. In 2015, it received national Chest Pain Center Accreditation with PCI from the Society of Cardiovascular Patient Care.
"Our participation in Get With the Guidelines/Mission: Lifeline demonstrates our commitment to quality care," said Dorothy Urschel, M.S., ACNP-C, MBA, NEA-BC, vice president of operations at Albany Memorial Hospital, who leads the cardiac and vascular service line for St. Peter's Health Partners. "We are proud to be a part of the American Heart Association's efforts to turn guidelines into lifelines."
The American Heart Association/American Stroke Association developed Get With The Guidelines with the goal of saving lives and hastening recovery. Since its inception in 2001, the program has touched the lives of more than 6 million patients.
For more information on stroke and heart failure care at St. Peter's Health Partners, visit: www.sphp.com/cardiac-vascular. For additional information on Get With The Guidelines, visit: www.heart.org/quality.