Samaritan Hospital Nurses Honored with DAISY Award for Nursing Excellence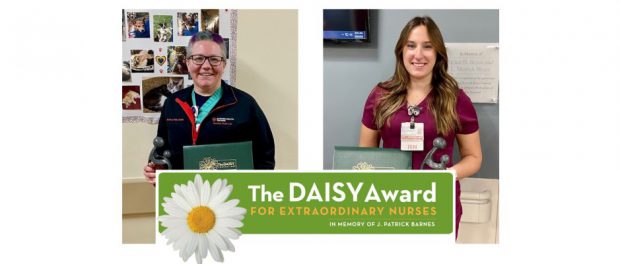 Samaritan Hospital recently held a ceremony to honor Deidre Dennison, RN, and Shannan Smith, RN, with a prestigious DAISY Award for outstanding patient care.
Deidre was nominated by colleagues who called her one of the "most caring, compassionate, knowledgeable nurses who, day after day, demonstrates her dedication to her profession."
Deidre works in Samaritan's Cath Lab. According to her nominating colleagues, she routinely goes above and beyond what is expected of her to help not just her patients, but her coworkers, too.
"In a world where sufficient is the norm, Deidre takes her work beyond expectation, excelling at critical care implementation and patient relationships," they wrote in their nominating letter. "From her catchy laughter to her bubbly personality, Deidre is an absolute pleasure to work with. She makes coming to work a joy!"
Shannan Smith is a registered nurse in Samaritan's Intensive Care Unit (ICU). She was nominated by a pulmonary critical care physician, who recognized Shannan for the skill, dedication, and compassion shown while recently helping to care for a critically ill, COVID-positive patient.
"Shannan kept working like a superhuman. This person never left the room from 11:45 a.m. until 6:30 p.m. Not a step outside the room. All this effort, while comforting at least seven to eight family members," wrote the physician. "I have seen Shannan evolve so much since her days as a telemetry tech. If I was to ever be this sick, or my family member, I would want Shannan as my nurse. I'm grateful that she works in our ICU."
In addition to Dennison and Smith, ten other Samaritan nurses were nominated:
Paula Patricia Chapin                                                                      Nordic Mercedes
Kristine Fisher                                                                                   Jessica Mosbey
Jeanine French                                                                                  Catherine Mullin
Cynthia Goff                                                                                      Sophia Patterson
Prossy Harris                                                                                      Mariah Van Avery
For more than 20 years, The DAISY Foundation has been recognizing the compassion and skill direct care nurses bring to their patients every day. DAISY is an acronym for Diseases Attacking the Immune System. The family of J. Patrick Barnes, who died at age 33 of complications from Idiopathic Thrombocytopenic Purpura, created the DAISY Award to honor his memory and recognize the healing work of the nurses who had cared for him and continue to care for patients everywhere.
Samaritan Hospital is one of more than 2,000 health care facilities across the world, committed to honoring nurses with the DAISY Award.