SPHP Hosts Free Pop-Up Produce and Food Stand in Troy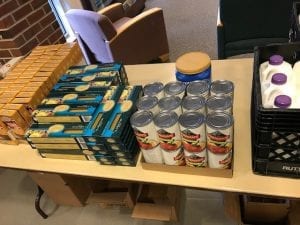 On Monday, November 25, St. Peter's Health Partners' division of Community Health & Well-Being hosted a free, pop-up produce and food stand at Samaritan Hospital's St. Mary's Campus in Troy.  Community Health & Well-Being worked with SPHP Cancer Care, The Regional Food Bank of Northeastern NY, and SPHP Social Work to provide free produce and other food items to families facing food insecurity.
Staff screened 62 families and individuals for food insecurity, and 47 left with bags of food. Food included potatoes, apple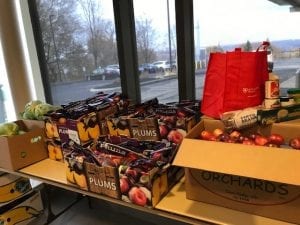 s, milk, pasta and rice, canned goods, beans, fruit cups, and more. Additionally, three large bags of food were taken to the Hildegard Medicus Cancer Center to distribute to patients in need.
This and previous pop-up produce events are an extension of SPHP's farmer's markets, held throughout the summer and fall at various St. Peter's Health Partners locations. During those markets, SPHP distributed food vouchers to qualifying residents, providing them with $10 of free produce. The goal of the markets, as well as the pop-up events, is to further increase access to healthy foods for people who might not otherwise have the opportunity to obtain fresh, organic produce.