SPHP, Trinity Colleagues Complete Life Safety Training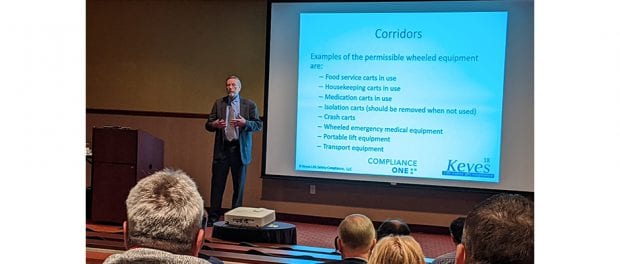 Last month, 50 colleagues representing acute and continuing care facilities within St. Peter's Health Partners (SPHP) and three other Trinity regional health ministries gathered for a one-day life safety training.
The training, sponsored and coordinated by SPHP's safety department, was the first of its kind for the organization. It brought together colleagues from various disciplines and departments throughout the system, including safety, security, infection control, environmental services, real estate, project management, and all aspects of facilities management.
Students in the class were educated on life safety standards that inspectors are looking for during survey inspections. These inspections are undertaken to ensure our facilities stay in compliance with provisions in the 2012 National Fire Protection Association (NFPA) 101, Life Safety Code, as outlined by the Centers for Medicare & Medicaid Services.
Brad Keyes, of Compliance One Group, customized the course to fit Trinity's needs, while covering code provisions including the correct placement of equipment and furnishings in corridors, new provisions for patient suites, and expanded provisions for automatic sprinkler systems. Keyes has more than 40 years of experience in the facilities management side of health care, is a nationally recognized speaker, and a former Joint Commission surveyor.
All the attendees left the education session with valuable information, while expressing eagerness to share their newly acquired knowledge with colleagues back at their home facilities.