SPHP's Monoclonal Antibody Program Recognized by Duke University for Best Practices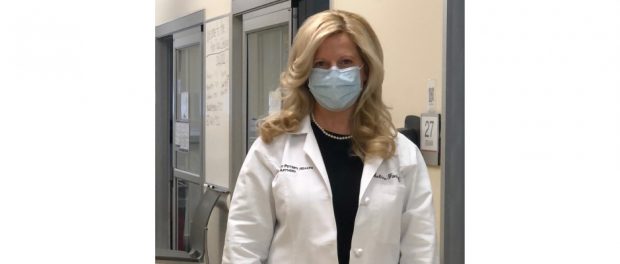 St. Peter's Health Partners (SPHP) continues to be recognized for its work with COVID-19 monoclonal antibody therapy. The latest recognition comes from The Duke Margolis Center for Health Policy, part of Duke University. The research center has highlighted SPHP in its new report "Promising Practices for Promoting Utilization of COVID-19 Monoclonal Antibody Treatments."
The report examines a range of practices and approaches to overcome access and administration obstacles to expand the use of monoclonal antibody treatments for COVID-19 patients. This includes efforts to reach underserved, high-risk populations such as the uninsured and homeless. SPHP was recognized for its use of urgent care clinics and emergency departments to reach patients who are unable to readily access care elsewhere.
SPHP became the first health care institution in New York's Capital Region to offer monoclonal antibody therapy – the only FDA-authorized treatment for COVID-19 – when it opened a clinic at the Samaritan Hospital – Albany Memorial Campus on December 3, 2020. Under the guidance of Melissa Fiorini, M.D., an emergency medicine and critical care physician at SPHP, the clinic has since treated more than 550 patients.
The treatment involves the intravenous administration of bamlanivimab or the combination of casirivimab and imdevimab. The drugs are designed to enhance the body's natural immune response to the virus and must be given within 10 days from the first onset of symptoms.
Research so far has shown that in certain people these new drugs, made by Eli Lilly and Regeneron Pharmaceuticals, may help symptoms improve sooner and might lessen the likelihood that they will need hospitalization. The drugs are currently authorized for emergency use by the FDA based on limited phase II study data which showed that monoclonal antibody treatment may decrease emergency department visits or hospitalizations.
Only those patients who are eligible and have a referral from their primary care provider can qualify to receive this treatment. If you do not have a primary care provider, but meet the eligibility requirement, email MABReferrals@sphp.com.
For more information on eligibility criteria as well as SPHP COVID-19 testing locations, visit: https://www.sphp.com/health-and-wellness/covid-testing-locations-and-clinics.
St. Peter's Health Partners has been at the forefront of COVID-19 treatment. St. Peter's Hospital and Samaritan Hospital were among the first hospitals in the United States to obtain FDA approval to treat critically ill patients infected by COVID-19 with blood plasma from a COVID-19 survivor. To date, SPHP has treated more than 250 patients with this convalescent plasma therapy.
St. Peter's and Samaritan were also the first hospitals in the Capital Region to use the experimental antiviral drug Remdesivir to treat COVID-19 patients, along with a variety of other therapeutic methods including IL-6 inhibitor drugs and macrophage inhibitors. As of January 6, more than 500 COVID-19 patients had been treated with Remdesivir. These experimental therapies are being deployed alongside the compassionate, patient-centered care for which St. Peter's Health Partners has always been recognized.