Spectrum: Local Nurses Stunned by, Appreciate Kind Notes from Community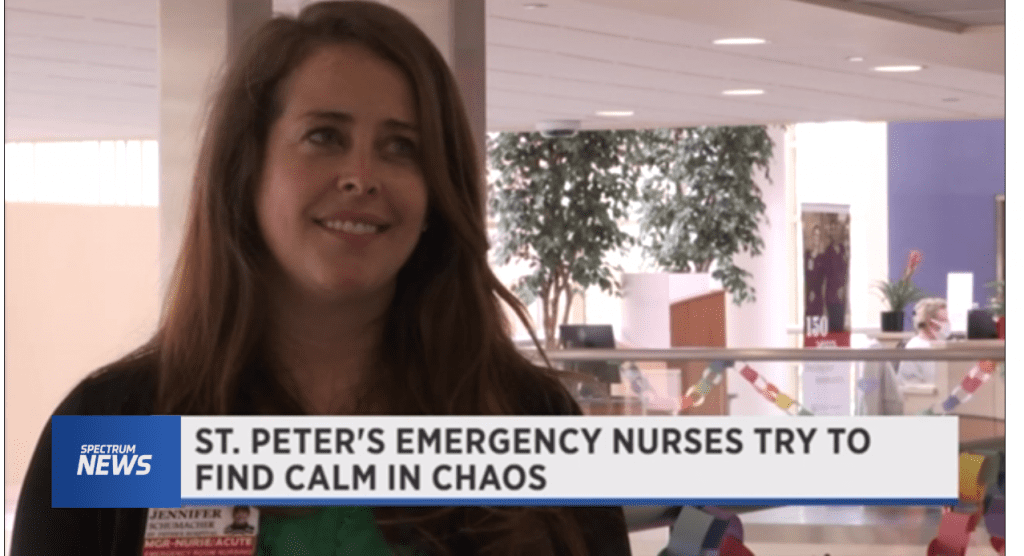 Two nurses from the emergency department at St. Peter's Hospital were recognized by Spectrum News for their work on the front lines of the COVID-19 pandemic. Jennifer Schumacher, RN, nurse manager for the emergency department, and Marshall Knauf, RN, discussed how much the community's support has meant to their team during this crisis.
From the report:
Messages and signs from the community also help in finding the beauty in the constant chaos. ER nurses say they've been overwhelmed by the kind notes, donated food, and messages of encouragement.

"We are so thankful as a department," says Schumacher. "When you get into nursing, you do it because you love it, and to have people reach out and thank us for what we do every day was so kind."

Knauf also has his own way of handling the stress and fear, by dancing for his co-workers and patients.

"My rationale is we don't see people on good days, and so whatever I can do to bring a smile to your face, to get my patient to laugh, I take that as a win," says Knauf.
Click here to watch Spectrum's report.