St. Mary Agnes O'Neil Honored with New Plaque at St. Mary's Hospital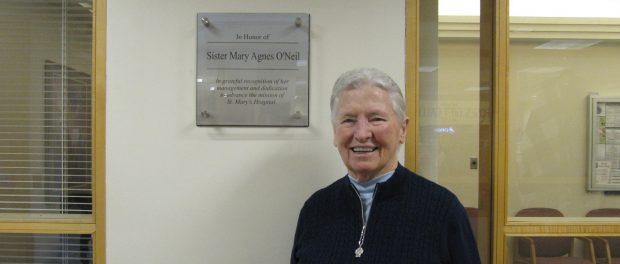 [This article was written by Melissa Phillips, Foundation Specialist, at the St. Peter's Health Partners Center for Philanthropy.]
To say Sister Mary Agnes O'Neil has accomplished much in her lifetime would be an understatement.
Sister Mary Agnes, Daughter of Charity of Saint Vincent de Paul, first graced St. Mary's Hospital with her presence in 1963, when she served as administrator and chairwoman of the hospital's Board of Directors. She left for a short period of time but was quickly asked to return, as St. Mary's was in great need of her help and talents.
St. Mary's was a poor hospital with large metal beds, 10-bed wards, poor lighting, and very little money to pay staff. Sister Mary Agnes knew the hospital needed a philanthropic foundation, but she was unsure of how to go about starting such an organization. In 1980, a board member introduced Sister Mary Agnes to Morris Massry, a successful real estate businessman and Troy native. Together, Sister Mary Agnes and Mr. Massry set out to start a foundation to raise much-needed funds for the hospital.
Once the foundation was established, the first task of Sister Mary Agnes and Mr. Massry was to meet with the medical staff of the hospital. They knew that to start with the doctors at the hospital was best. Many of the physicians filled out pledge forms and provided gifts that very same day.
Sister Mary Agnes' next step was to join the Chamber of Commerce. Through networking and public engagement, she raised awareness about St. Mary's Hospital, its impact, and its needs. She gave speeches about the hospital, and set goals to accomplish in Troy and the surrounding communities, and even started the hospital's first public relations office.
Sister Mary Agnes is an accomplished and impassioned leader. She is a wonderful, caring human being. For each of the hospitals she ran, her guiding principle was to provide "good care, kindness, and love." She has been honored with multiple awards and recognitions for her work and accomplishments. There is even a day named after her! In 1981, the former mayor of Troy, Louis Anthony, Jr. proclaimed August 31 as "Sister Mary Agnes Day."
In 2007, after 60 years of service, Sister Mary Agnes decided to retire. She now resides at the St. Louise House retirement home in Menands and she is still volunteering, helping many of the other sisters who live in the home. She is 91 years old and full of life and vitality.
We are so proud and privileged that Sister Mary Agnes is such an integral part of the St. Mary's Hospital and St. Peter's Health Partners story. Serving more than 30 years in Troy, she has left such a positive impact on our community. She was recognized in 1968 for her community service to Troy. Most recently, St. Peter's Health Partners, on January 11, 2018 hung a plaque in her honor at St. Mary's. The plaque is in grateful recognition of all Sister Mary Agnes has done to advance the mission of St. Mary's Hospital. The depth of her compassion and spirit is immeasurable.
Sister Mary Agnes said she could not have done all of this alone. She truly appreciates the staff and all the great men and women who served on the hospital board, saying "they gave unstintingly of their time, talents and generosity." She also thanks the community for their generous support of St. Mary's Hospital.
When we asked Sister Mary Agnes how she accomplished and continues to accomplish so much, she responded, "God is so good to me."