St. Peter's College of Nursing Students Donate 1,300 Items to VA Food Pantry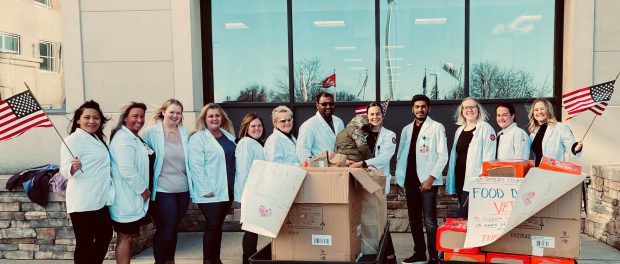 On November 23, 2021, students from the St. Peter's Hospital College of Nursing donated 1,300 non-perishable food items to the Albany Stratton VA Medical Center's food pantry.
As the COVID-19 pandemic continues to exact a deadly toll on America, it is also leaving countless Americans, particularly veterans, in desperate need of care, shelter, and food.
The Albany Stratton VA Medical Center serves veterans in 22 counties across upstate New York, western Massachusetts, and Vermont, providing them with clothing, food, meal vouchers, toiletries, gift cards, and other comfort items. The need is expected to become even greater over the winter months, especially as COVID-19 cases continue to increase.
Unlike last year when veterans were not allowed inside the pantry due to COVID restrictions, this year they are. While this is a good thing, as it ensures access to food, it has also led to an increased reliance on donations. This, in turn, has depleted the pantry's stock, leaving shelves nearly empty.
Jennifer Moore, a nurse in the Emergency Department at the Albany Stratton VA, and Nursing 2 Course Chair at St. Peter's Hospital College of Nursing (as well as a former SPHP Nurse of the Year in 2016), leaped into action last year when she heard about the issue, rallying her students to launch a food drive and stock the pantry's shelves.
Recognizing the new challenges facing the pantry this year, the group started collecting items in October. The team — three of whom are veterans of the Army and the Navy — collected the 1,300 non-perishable food items and then delivered them Tuesday morning to the VA, in advance of the Thanksgiving holiday.
"The nursing students of today, having chosen nursing as a career in this uncertain era of COVID, are so admirable. When you look at the photo of them making the delivery, you can't help but notice their smiles – they exude positivity and joy, and they are truly living our Mission and Core Values," said Moore. "What better way to grow that sense of selflessness and service in them than by recognizing and responding to this need?"
Moore says she and her students plan to make the food drive an annual Thanksgiving tradition.