St. Peter's Hospital Honors Exceptional Nurse Michelle Dacosta with DAISY Award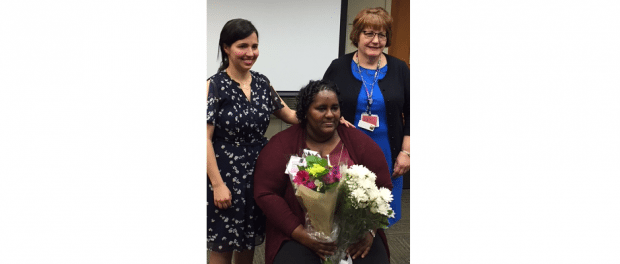 Nurses are at the heart of the compassionate, people-centered care we provide every day at St. Peter's Health Partners. It would be impossible to overstate the importance of nurses in providing positive outcomes for our patients.
On May 15, the Recruitment and Retention Nursing Council at St. Peter's Hospital proudly hosted its quarterly DAISY Award Ceremony to honor the outstanding efforts of its nurses. Recognized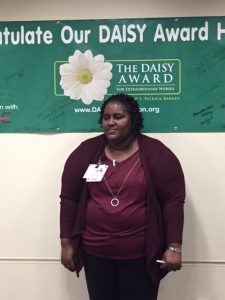 were DAISY winner Michelle Dacosta, and more than 45 other nominees.
Dacosta is a labor and delivery nurse at St. Peter's Hospital. Fellow nurse, Natalia Borja, nominated Dacosta for the DAISY Award after becoming one of Dacosta's patients. During the award ceremony, Borja discussed how Dacosta helped her the night she went into labor with her first child. Fighting back tears, Borja recalled how frightened and desperate she was as her baby's heart rate plummeted with every contraction. As she lay in her hospital bed, fearful for her baby's life, Dacosta sat by her side and monitored contractions while reassuring her everything would be all right.
"She stayed by my side for hours. She made me feel protected. She was my guardian, and provided exceptional care, advocating on my behalf, commanding knowledge and experience," Borja said. "She was a blessing from God."
Borja went on to deliver a healthy baby girl.
"Michelle is the true reflection of our core values—a true healing presence," said Donna Kirby, RN, a fellow nurse at St. Peter's Hospital. "She makes an enormous difference in her patients' lives and exemplifies excellence in skill and compassion."
"Congratulations to Michelle Dacosta and to all of our nurse nominees on the presentation of the DAISY Award. This award recognizes nurses for the essence and art of nursing practice — that of care and compassion," said Celeste DesChamps, RN, MS, NEA-BC, chief nursing officer at St. Peter's Hospital. "Too often, nurses have a hard time seeing the full value of their work. We hope this award will help inspire our nurses to see how truly extraordinary they are."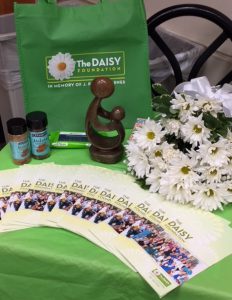 Attendees included members of Dacosta's family, as well as friends.
The not-for-profit DAISY Foundation, based in Glen Ellen, California, was established by family members of Patrick Barnes. Patrick died in 1999 following complications of the autoimmune disease, Idiopathic Thrombocytopenic Purpura (ITP). DAISY is an acronym for Diseases Attacking the Immune System.  Patrick's family started the foundation as a way to thank nurses for making a profound difference in the lives of their patients and patient families.
St. Peter's Hospital is one of more than 2,000 health care facilities across America committed to honoring nurses with the DAISY Award.
Click here to see a photo gallery from the award ceremony.