Sunnyview Acquires New FES Cycling System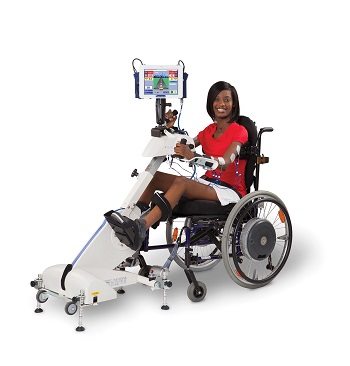 Sunnyview Rehabilitation Hospital recently acquired a new, state-of-the-art Functional Electrical Stimulation (FES) leg and arm cycling system to help treat patients with spinal cord injury (SCI), stroke, traumatic brain injury (TBI), multiple sclerosis (MS), and other neurological diagnoses.
This unique therapy tool uses FES to help patients pedal a stationary bike to help muscles in the arms, legs, and the trunk (core) to work. Acute therapy is required to reverse muscle atrophy, or wasting.
The new RT300 cycle, manufactured by Restorative Therapies, can stimulate one or both sides of the body and up to 16 leg, arm and trunk muscles at one time.
"The new FES cycle replaces the hospital's previous stimulator bike that could only target six specific leg muscles and was used only with patients with spinal cord injury," said Karen Lenge, DPT, who serves as lead therapist for the technology. "The exciting new bike has the ability to stimulate leg, arm, and trunk muscles on both sides of the body which means we can now treat individuals who are weak or paralyzed on one side after a stroke or traumatic brain injury."
Lenge said this expanded functionality greatly increases the number of patients who can benefit from the technology. It is estimated that nearly 200 patients will use the cycling system annually.
FES is a well-established rehabilitation technique that uses pulses of electrical current to stimulate peripheral nerves and thus generate muscle contractions and patterned muscle activity. FES is applied using adhesive pads placed over the muscle to be activated.
With the cycling system, FES creates patterned movement in the arms, legs and trunk. In patients with weak or paralyzed muscles, FES enables muscles to work and perform the pedaling motion. In addition, even if the individual is not able to consciously participate, FES can facilitate muscle contractions and the pedaling activity.
The FES cycling system helps patients experience improvements in walking, balance, bone density, musculoskeletal strength and endurance, cardiovascular endurance, and muscle tone.
Sunnyview's purchase of the $40,000 system was made possible through gifts from the Charles R. Wood Foundation and the Eddy Endowment Fund.