To Life! Organization Honors Anne Lawton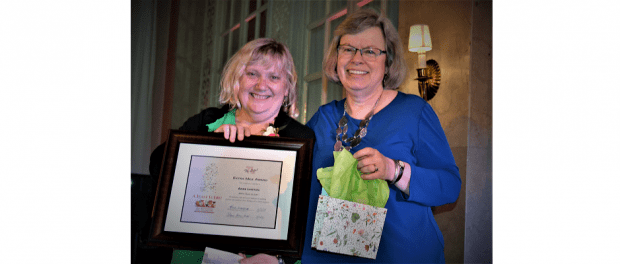 Anne Lawton, RN, community outreach nurse at St. Peter's Hospital Cancer Care Center, has received the Extra Mile Award from the non-profit organization, To Life! The award, presented May 7 at Franklin Plaza in Troy, recognizes individuals who go out of their way to make a difference in the fight against breast cancer.
Lawton has been a nurse for nearly 25 years and is passionate in her work to prevent cancer and educate patients, including hospital employees. Realizing how difficult it was for some of her colleagues to make time for regular breast cancer screenings, Lawton created the Employee Mammogram Program at St. Peter's Hospital. She enlisted screening technicians and other staff to volunteer their services in order to make screening available at convenient times. Because of this, many women were screened who otherwise would not have been. Lawton is also the facilitator of The Butt Stops Here tobacco cessation program, and is instrumental in promoting the hospital's cervical, colorectal, lung, and prostate cancer screening services.
Constantly seeking new, creative ways to support cancer survivors, Lawton recently created Hike with To Life! The hiking program is designed for women going through treatment and survivorship. Last year, the group walked weekly on progressively more challenging trails and eventually completed two different mountain hikes over the summer.
"Anne is an incredible asset to our organization," said Meredith Robison, director of oncology services at St. Peter's Health Partners. "Because of her compassion for patients, boundless energy, positive presence, and dedication to cancer prevention, she has not only helped us fulfill our mission of being a transformative healing presence, she has also helped save many lives through detection."
A non-profit organization founded in 1998, To Life! provides support services for breast cancer patients, their families, and their caregivers. It also educates the community about breast cancer detection, treatments, and related health matters.