Troy Pediatric Health Center Recognized for Obesity Prevention Efforts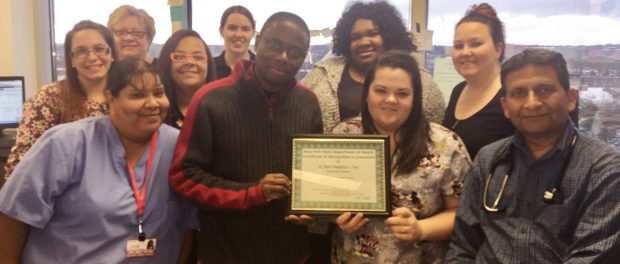 Troy Pediatric Health Center, a practice of St. Peter's Health Partners Medical Associates, has been recognized by the New York State Department of Health for its efforts to improve obesity prevention.
The practice, which has been actively engaged in combating childhood obesity in both its patients and the Troy community, received a certificate of recognition signed by Barbara A. Dennison, M.D., director of policy and research translation, and medical director of the Health Department's Obesity Prevention in Pediatric Healthcare Settings initiative.
To help fight childhood obesity, the providers and staff at Troy Pediatric Health Center have invested time and energy to become a strong presence in the community and to create meaningful partnerships with local organizations, said Sikander Manzoor, M.D., who has been at the practice for 10 years.
"Childhood obesity is such an important topic, and has been a big focus of ours for many years," Dr. Manzoor said. "Obesity affects a young person's physical health, and puts them at higher risk for asthma, sleep apnea, bone problems, diabetes, and being obese as an adult. Obesity can also impact a child's social and emotional health."
In partnership with St. Peter's Health Partners Community Health Programs and the New York State's Delivery System Reform Incentive Payment (DSRIP) program, Troy Pediatric Health Center implemented what is known as a 5-2-1-0 program.
The 5-2-1-0 program is open to all children, and aims to teach and instill four healthy habits they should practice every day:
Eat 5 servings of fruits and vegetables
No more than 2 hours of recreational screen time
At least 1 hour of exercise
Drink 0 sugary drinks
The program has been a big success for Troy Pediatric Health Center, which through its efforts truly embodies the mission of St. Peter's Health Partners to be a compassionate and transformative healing presence in the communities it serves.
Dr. Manzoor's colleagues at Troy Pediatric Health Center, which is located 500 Federal Street (Suite 602) in Troy, are Garry Durosier, M.D., Ifeoma Ojukwu, M.D., and Brijesh Tantuwaya, M.D.
Obesity Prevention in Pediatric Health Care Settings is a New York state initiative aimed to increase breastfeeding and decrease obesity among infants and children aged zero to 18 years through the promotion of guideline-concordant care in primary pediatric care settings. Click here for more information on the initiative.