Troy Urology Associates Welcomes Anthony Tracey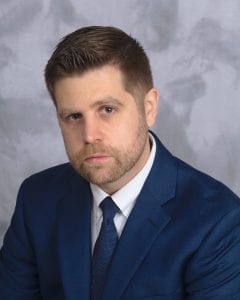 Anthony Tracey, M.D., has joined Troy Urology Associates, a practice of St. Peter's Health Partners Medical Associates.
Dr. Tracey practices a full range of urological surgery and care. His professional interests include urological oncology, stone disease, and voiding dysfunction in men and women of all ages.
Dr. Tracey was previously a urological surgeon with the Greenville Health System in Greenville, South Carolina. He received both his medical and master's degrees from Tulane University in New Orleans, and his bachelor's degree from Saint Lawrence University in Canton, New York.
Troy Urology Associates is welcoming new patients at its office at 267 Hoosick Street in Troy. Click here to make an appointment, or call 518-272-1333.
St. Peter's Health Partners Medical Associates, with more than 350 physicians and advanced practitioners in more than 80 locations, is affiliated with St. Peter's Health Partners – the region's largest and most comprehensive not-for-profit network of high-quality, advanced medical care, primary care, rehabilitation, and senior services.