CNBC: How Trinity Health's in-house travel nurse program has been a game changer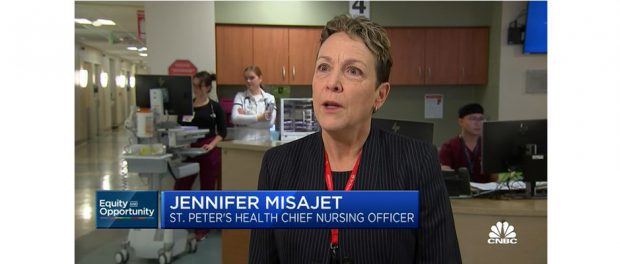 CNBC's recent report on nationwide nursing shortages featured a look at Trinity Health's groundbreaking FirstChoice travel health care professional program. The story included interviews with Jennifer Misajet, SPHP's interim chief nursing officer; Cassie Jupin, RN, from St. Peter's Hospital's post-partum unit; and Mike Slubowski, Trinity Health's president and CEO.
From the story:
Cassie Jupin grew up wanting to be a nurse. She set her sights on a job at St. Peter's Health Partners hospital in Albany, New York, and landed a position in the same maternity ward where she was born.

"Knowing that I can come back to work every single day and work with a group of women and people that just make it so easy" has been gratifying, Jupin said. "Like, everybody's here to help you."

St. Peter's is part of Trinity Health System, which has not been immune to the need for contract nursing. But Trinity has been able to have more control over staff turnover by using its own in-house travel nurse program — an idea that stemmed from its own nurses over a decade ago.

"We realized that if we developed our own internal agency, if you will, we could orient people to Trinity Health for all of our hospitals," said Jennifer Misajet, chief nursing officer at St. Peter's hospital.

That internal program, called First Choice, grew threefold during the pandemic, as older nurses looked to scale back from full-time work, and younger nurses sought higher pay and greater flexibility over their working conditions.

"It's not like the old days where nurses became inpatient nurses for 30 years. A lot of new graduates expect to work in an inpatient setting for only a few years, and then they want to get their master's degree, or become nurse practitioners," said Trinity CEO Mike Slubowski.
To view the story, click HERE.