LiveSmart: Colorectal Cancer – Screening and Early Detection Crucial for Better Outcomes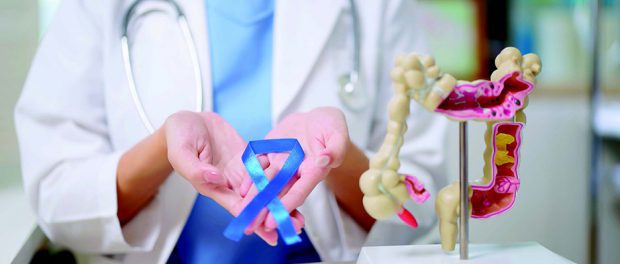 [This story was written by Nora L. Yip, MD, Capital District Colon & Rectal Surgery Associates, St. Peter's Health Partners Medical Associates.]
Colorectal cancer is the second leading cause of cancer-related deaths in the United States for both men and women combined. The American Cancer Society estimates 153,020 adults will be diagnosed with colorectal cancer in the U.S. in 2023, and it will claim the lives of 52,550 patients. This year, it is estimated more than 81,860 new cases of colorectal cancer will be diagnosed in men, and 71,160 new cases of colorectal cancer will be diagnosed in women.
The good news is colorectal cancer is a disease that can be prevented through regular screenings, a healthy diet and regular exercise. March is Colorectal Cancer Awareness Month, and a good time to learn more about colorectal cancer and how it can be prevented or best treated.
To lower your risk, the American Society of Colon and Rectal Surgeons recommends that you:
Get regular colorectal cancer screenings beginning at age 45. In 2021, the U.S. Preventative Services Task Force lowered the recommended age to start colorectal screenings from 50 to 45. This is important because people can have polyps or colorectal cancer and not even know it. Since most colorectal cancer develops from pre-cancerous polyps – which are growths on the lining of the colon and rectum – screening methods can detect and remove polyps BEFORE they turn into cancer.
Get screened at an age younger than 45 if you have a personal or family history of inflammatory bowel disease; colorectal cancer or polyps; or ovarian, endometrial or breast cancer.
Eat a low-fat diet high in fruits and vegetables.
If you use alcohol, drink only in moderation.
If you use tobacco, quit. If you don't use tobacco, don't start. Alcohol and tobacco in combination are linked to colorectal and other gastrointestinal cancers.
Exercise for at least 20 minutes three to four days each week.
Colorectal cancer is preventable if polyps that lead to the cancer are detected and removed, and it is curable if the cancer is detected in its early stages. Since there are very few symptoms associated with colorectal cancer, regular screening can save your life.
Colorectal cancer screening costs are covered by Medicare and many commercial health plans. You should find out from your doctor which screening procedure is right for you and how often you should be screened. Talk to your doctor if you have family history or are experiencing symptoms such as change in bowel habits, abdominal pain, rectal bleeding, or unintentional weight loss.
Colonoscopy is currently the most sensitive screening for colorectal cancer. The procedure is not painful, as sedation is used to minimize any discomfort, which is usually caused by the gas inserted into the colon to visualize the lining. The preparation (or "bowel prep") the day before can be unpleasant but is extremely important, as it allows your doctor to clearly see the lining of the intestine during the procedure. An inadequate preparation can lead to missed polyps or a need to repeat the procedure.
Colorectal cancer may be curable when detected early. More than 90% of patients with localized colorectal cancer (confined to the colon or rectum) are alive five years after diagnosis. Unfortunately, only around a third of all colorectal cancers are diagnosed at this early stage. Colorectal cancer requires surgery in nearly all cases for a complete cure, sometimes in conjunction with radiation and chemotherapy.
Capital District Colon & Rectal Surgery (CDCRS) is located on the St. Peter's Hospital campus at 319 South Manning Blvd., Suite 310, in Albany. The physicians at CDCRS are specialty-trained colorectal surgeons who diagnose and treat colon and rectal problems with excellence, compassion and competence.
For information, call (518) 438-2776.