Daily Gazette: WellNow Urgent Care, St. Peter's Health Partners Join Forces in Region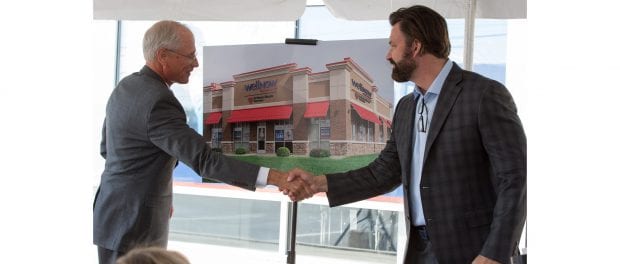 The Daily Gazette visited Tuesday's press conference and spoke with St. Peter's Health Partners President and CEO James K. Reed, M.D. about SPHP's new joint venture with WellNow Urgent Care.
From the story:
Principals of both health groups say more WellNow-St. Peter's urgent care spots are planned for the area.

"It brings together two very important pieces," said Dr. James K. Reed, president and CEO of St. Peter's Health Partners, after a Tuesday morning press conference announcing the move outside the WellNow Niskayuna location in Mansion Square, off Balltown Road.

"We obviously have the full continuum of care at St. Peter's Health Partners," Reed added. "WellNow has that fantastic expertise in the urgent care piece of it, where someone would first hit the health system."

"If a person comes to one of the WellNow-St. Peter's locations, great if you have a problem that can be taken care of right there," he said. "But what if it needs more care than that? We'll be tied seamlessly to the rest of the St. Peter's system, information, patient, whatever care they need, we can move them smoothly through the continuum."
Reed believes the joint venture builds on the strengths of both organizations and offers more options for prospective patients.
Click here to read the full story.