St. Peter's Health Partners Announces Joint Venture with WellNow Urgent Care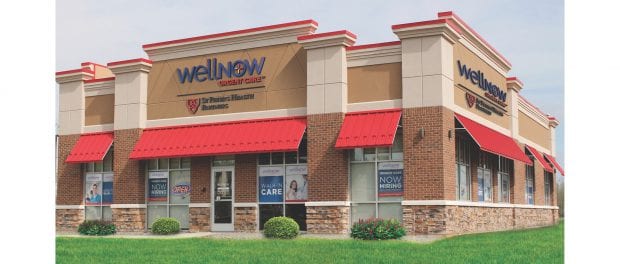 St. Peter's Health Partners (SPHP) and WellNow Urgent Care — one of New York state's fastest-growing urgent care providers — announced a collaborative joint venture to create a unified network of urgent care centers across the Capital Region.
The strategic agreement marks the first partnership between SPHP and WellNow. Through this joint venture, the organizations will double their combined urgent care presence throughout the Capital Region. This will provide patients in Albany, Columbia, Greene, Rensselaer, Saratoga, Schenectady, and Schoharie counties with access to WellNow's high-quality, quick, and convenient urgent care services, provided with the compassion and people-centered focus for which SPHP is known.
"St. Peter's Health Partners is excited to collaborate with WellNow, which is known both regionally and nationally for providing high-quality, people-centered, and accessible urgent care services," said James K. Reed, M.D., chief executive officer of SPHP. "Through our work with WellNow Urgent Care, we will improve access to urgent care across the Capital Region, and help ensure our patients are receiving the right care, in the right place, at the right time."
"WellNow Urgent Care is proud to partner with St. Peter's Health Partners to offer patients throughout the Capital Region a comprehensive network of urgent care facilities," said WellNow Urgent Care President John Radford, M.D. "St. Peter's Health Partners shares our commitment to supplying patient-centered urgent medical care in areas where access to such care may be limited. The future is bright, and our unified network represents the very best in urgent care delivery for our patients."
As part of the joint venture, all Capital Region-based WellNow facilities and SPHP urgent care centers will become co-branded — visually representing the unified network. The first two locations to transition into co-branded facilities will be WellNow's Niskayuna and Hudson facilities. The first newly built co-branded facility will be located in Clifton Park. WellNow will assume operations of all co-branded facilities and will maintain the same high standard of care established by both urgent care partners in the Capital Region. Service will continue uninterrupted at all WellNow and SPHP urgent care locations, which will remain open as the facilities transition into co-branded centers. It is expected that all existing SPHP facilities will transition over the next 18 months.
All WellNow facilities provide timely treatment for non-life-threatening injuries and illnesses, such as sprains, strains, colds and the flu, while also providing on-site X-rays, lab testing, and physicals. Patients are treated on a walk-in basis but may also check-in online or view up-to-date facility wait times directly on the company's homepage. WellNow accepts most insurance, including Medicare and Medicaid. Employers in the Capital Region are also invited to contact WellNow to discuss its wide range of occupational medicine programs. A full list of services and hours can be found online.
WellNow Urgent Care currently operates 36 locations across New York and Illinois — with plans to end 2019 at a total of 42 facilities. The company will continue to expand in 2020 where an additional 20 new facilities are planned.
Current St. Peter's urgent care locations include: Albany, Clifton Park, Saratoga Springs, and three Rensselaer County locations – East Greenbush, St. Mary's Campus, and South Troy.
About WellNow Urgent Care
WellNow is a wholly owned subsidiary of Aspen Dental Management Inc. (ADMI). Through nearly 40 locations of WellNow Urgent Care in New York and Illinois and almost 780 locations of Aspen Dental across the United States, ADMI provides practice support services focused on ensuring clinical providers can focus on their patients. Founded in 2011 by Dr. John Radford, WellNow Urgent Care℠ is one of New York state's fastest-growing providers of urgent medical care.  WellNow treats non-life-threatening injuries and illnesses seven days a week, with no appointment needed and online check-ins available. Employers can also partner with WellNow for occupational medicine programs. A full list of WellNow services and hours can be found online. Aspen Dental provides a wide range of general dentistry and denture-related services and offer patient-friendly programs and services, including convenient locations, onsite labs and extended hours. Together, Aspen Dental practices cared for nearly 1.8 million patients in 2018.
About St. Peter's Health Partners
With more than 12,000 employees in over 185 locations, St. Peter's Health Partners is the Capital Region's most comprehensive not-for-profit integrated health care network, which provides high-quality, compassionate, and sophisticated care to thousands of people every day. St. Peter's Health Partners is a member of Trinity Health, one of the nation's largest Catholic health systems. For more information, please visit www.SPHP.com.