The Record: Albany Hilton Garden Inn Becoming Respite Area for Hospital Workers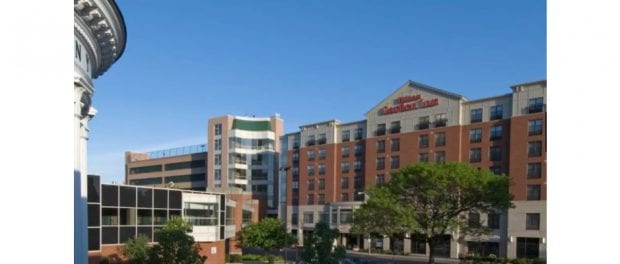 James K. Reed, M.D., president and CEO of St. Peter's Health Partners, was quoted in the Troy Record for its article on "Heroes Landing."
The Albany Hilton Garden Inn was transformed into "Heroes Landing" to serve as a respite for health care workers at St. Peter's Hospital and Albany Med, serving on the front lines of the COVID-19 pandemic.
From the article:
"Every day, I am in awe of the compassion, caring and strength I see demonstrated by St. Peter's Health Partners colleagues as they stand on the front lines in the battle against COVID-19. They are resolute in the face of adversity, always keeping the safety and health of each other, patients and families first and foremost in their minds. For that, I am so very grateful," said James K. Reed, president and CEO of St. Peter's Health Partners, in the release. "My gratitude also extends to our community, which has been so generous in its many offers to support our health care heroes, particularly our friends at SEFCU.

"From a recent donation of 1,200 critical N95 respirator masks, to the opening of this wonderful respite program for dedicated healthcare workers, SEFCU continues to be a community partner who sees a need and responds by going above and beyond – taking care of the people who take care of others.
Click here to read the full story.