WTEN: Local Hotel Temporarily Transformed Into 'Heroes Landing' for Healthcare Workers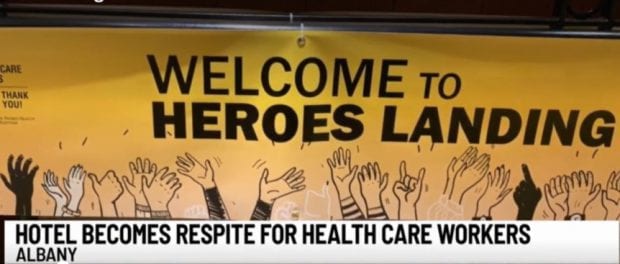 WTEN interviewed Shannon Galuski, executive director of St. Peter's Hospital Foundation, for its story on "Heroes Landing."
Galuski worked with SEFCU President and CEO, Michael Castellana, to create the respite for healthcare workers on the front lines in the battle against COVID-19. Located at the Hilton Garden Inn, "Heroes Landing" is open to doctors, nurses, and other medical professionals from St. Peter's Hospital and Albany Med.
From the story:
"Our hope is really to make sure they know they have a safe place and that they know how many people are behind them and how grateful everybody in the community is for all of the work that they're doing," said Galuski.

The community partners are working with the infectious control teams at both hospitals to make sure all the proper safety protocols are in place.

"Century linen is one of our partners as well and they were able to ensure that they would launder the linens and towels every evening. We're screening at the door and were making sure everyone there has necessary PPE," said Galuski.
Click here to watch WTEN's story.