Times Union: Brothers reunited with help from Samaritan Hospital staff after 30 years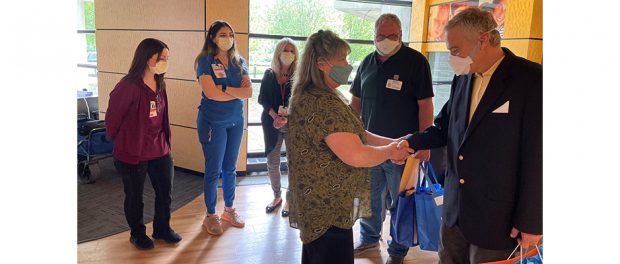 Thanks to the incredible work of some Samaritan Hospital nurses, a homeless veteran was reunited with his brother after more than 30 years apart.
From the article by Times Union reporter Rachel Silberstein:
Will — who has schizophrenia  — had been living in a tent in Westerlo before he was picked up by an Albany County mobile crisis team on April 18. The brothers, who asked to be identified by their first names only to maintain their privacy, hadn't seen each other since 1991.

When the medics brought him in, Will was mumbling inaudibly and the nurse assigned to him, Renee Schepisi, initially struggled to elicit information about his relatives.

Will, who was a missing person for 30 years before a Samaritan Hospital nurse was able to identify him and track down his brother, once served in the Air Force and became a crew chief. He served for two and a half years before mental illness consumed him.

"From the very beginning, I just had a really strong gut feeling he was a missing person," Schepisi said.

Schepisi stumbled across an obituary for the patient's mother that noted she was survived by another son, Walt, who matched Will's description of his brother.

Schepisi enlisted her colleagues, psychiatric nurse Abigail Belarge and patient care technician Sarah Haddawi, to find Walt's number via Google and social media.

Will is believed to have walked from California to New York over [the] three decades before landing in Albany.