Seven SPHP Nurses Honored for Nursing Excellence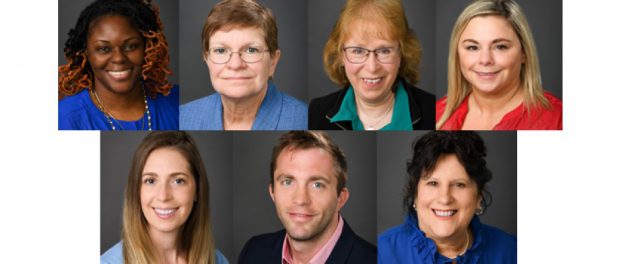 Seven St. Peter's Health Partners (SPHP) nurses have been honored for nursing excellence at the eighth annual Times Union Salute to Nurses.
Presented by SPHP, the Times Union Salute to Nurses honors the profession of nursing and the outstanding men and women who represent the field throughout the Capital Region. This year's celebration, held virtually on May 20, was especially poignant, as it recognized the continued obstacles these nurses face from the ongoing COVID-19 pandemic, as well as the unprecedented staffing challenges that have arisen as a result.
Twenty-five local nurses – 10 winners and 15 finalists – were honored this year, all of whom were nominated by family, friends, coworkers, and others whose lives they have impacted with their work.
Two SPHP nurses were named a "2022 Nurse of the Year":
Shatauna 'Shay' McCray, LPN| St. Peter's Diabetes and Endocrine Care
Lisa McDonald, RN | Albany Associates in Cardiology
Additionally, five SPHP nurses were honored as "Nurse of the Year" finalists:
Laurie Brann, BSN, RN, CRNI | Eddy Visiting Nurse & Rehabilitation Association
Lisa Catalano, RN, OCN | Hildegard Medicus Cancer Center, St. Mary's Campus
Talia Pallozzi, RN | St. Peter's Internal Medicine
Devon Sedgwick, RN | St. Peter's Hospital, Cardiovascular Intensive Care Unit
Sharon Thomas, BSN, RN, OCN | St. Peter's Hospital, Radiation Therapy
"It has never been more important to recognize the exceptional work of our nurses," said Steven Hanks, M.D., chief clinical and chief operating officer for SPHP. "These men and women have faced extraordinary challenges yet have never wavered in their commitment to provide highly skilled, compassionate care to our patients. They are the backbone of our health care system, and we are so honored to once again partner with the Times Union to recognize our nursing heroes with immense gratitude and pride. Thank you to each of you for all you do, every day, and congratulations."
Times Union Salute to Nurses honors nurses for their remarkably selfless contributions, impact on quality of life for their patients, and their passion for the nursing profession. To view this year's virtual awards ceremony, which included a keynote address from Christopher Jordan, MHA, RN, CPHQ, acute care chief nursing officer and vice president of patient care services for SPHP, click here.