WNYT: Stuyvesant Plaza to Donate Gift Cards to Health Care Workers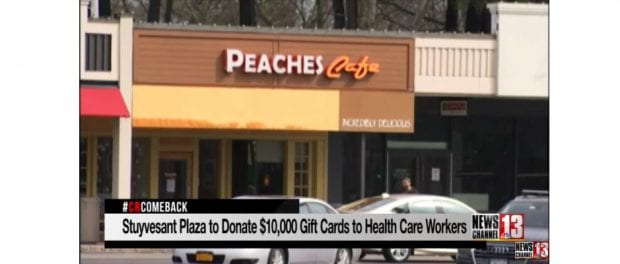 WNYT aired a story on a generous donation being made by Stuyvesant Plaza for Albany-area health care workers. The plaza is buying $10,000 in gift cards for colleagues at St. Peter's Hospital and Albany Med. The gift cards can be used at restaurants located within the shopping destination on Western Avenue. Thank you, Stuyvesant Plaza and Mr. Swyer!
From the story:
"These gift cards are a small gesture of our gratitude for their tireless work during this continued crisis," said Stuyvesant Plaza President Ed Swyer in a statement. "By purchasing these gift cards from our operating restaurants at Stuyvesant Plaza, we are also able to support each with much-needed revenue. As a result, this action accomplishes two goals in supporting the region's frontline healthcare workers and our small businesses. We encourage others who are able to do so to follow our lead."
Click here to watch WNYT's report.