WRGB Channel 6: Sunnyview Rehabilitation Hospital Hosts Golf Clinic, Debuts Paramobile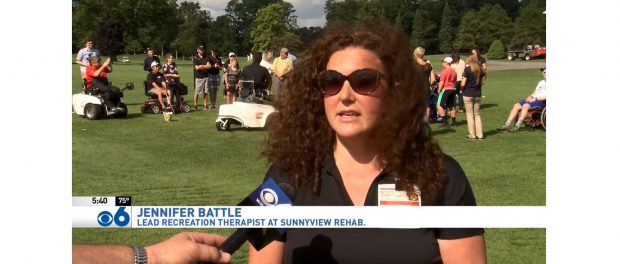 WRGB Channel 6 aired a story yesterday about Sunnyview Rehabilitation Hospital's adaptive golf clinic at Stadium Golf Club in Schenectady. The hospital, an affiliate of St. Peter's Health Partners, was using its newest piece of technology, the Paramobile — an advanced mobility device that allows users to sit or assume a standing position — to help patients and community members hit golf balls.
From the story:
Sunnyview's lead recreation therapist, Jennifer Battle, says it's basically a wheel chair that can allow someone with a disability to be put in a standing position.

"It's great that even though he's in a wheelchair he's able to stand up to do something that he loves and it's not only to be used for golf," she said.

She says the Paramobile can also use it during physical and occupational therapy sessions and other recreational sports like fishing and archery, and she says Sunnyview is getting one of the devices for the hospital.
Click here to read the full story and watch the video.