WRGB: Couple Separated During the Pandemic Reunites at Troy Nursing Home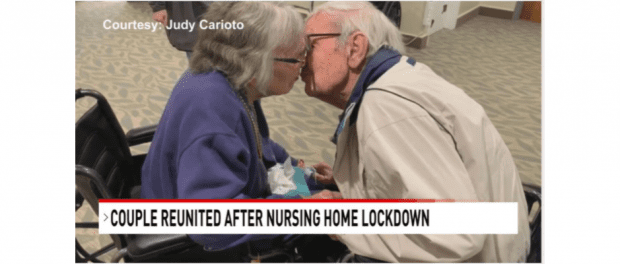 WRGB/CBS6 News featured the heartwarming reunion of a husband and wife, separated by the COVID-19 pandemic. Jean and Walter Willard are both residents of the Eddy Memorial Geriatric Center in Troy, part of St. Peter's Health Partners.
From the story:
The nursing home was around the corner from Jean and Walter's house, so Walter would go visit every day.

"My dad would go over there every day and spend most of every day, in the beginning he was there all day from the morning until night when she went to bed," Wendy Willard said.

But the pandemic, and a lock down at the nursing home, pulled them apart. Walter was no longer able to visit. His daughters said Jean would cry and ask for him.

"Then the virus happened and he couldn't go anymore, and he went downhill so quickly when he couldn't see her," Wendy added.

During the pandemic, Walter fell which caused a brain bleed. He had surgery at Albany Medical Center and went to rehabilitation facilities. But his family knew they had to reunite their parents.

But pandemic protocols prohibited Walter from moving into Eddy Memorial Geriatric Center.

The admissions person said 'we have COVID cases, we can't let any one in.'

So she wrote a letter to the facility's director, and he had a change of heart.

"I told him what we were afraid of, we're afraid we're going to lose one of them and they're never going to have seen each other again, and I asked 'is there anything you can do? We're willing to take the risk, my dad is willing to take the risk.'" Wendy said. "He immediately called me and said absolutely we want to do this for you!"

Wanda said she cried all afternoon when she got the news, and Wendy was relieved after working so hard to make the move happen. They are very grateful to the staff.
Click here to watch WRGB's report.