WTEN: Back to School Health with Dr. Jeena Madden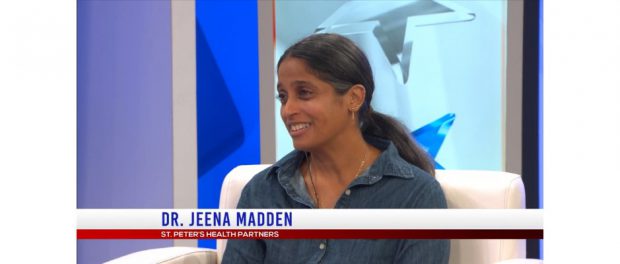 Jeena Madden, M.D., of St. Peter's Family Health Center, was featured on WTEN's Empire State Weekly program, which airs on Nexstar affiliates across New York state.
Dr. Madden discussed the important role of vaccines, including the COVID-19 vaccine, in supporting public health.
From the interview:
Also this week, as students head back to school, New York officials are recommending similar precautions to help keep everyone safe from the coronavirus this year. Doctor Jeena Madden, with Saint Peter's Health Partners, explained that the Hochul Administration's push for vaccination has multiple public health benefits.

"Again, the bottom line with a lot of these vaccines is we wanna keep people out of the hospital and we wanna keep them alive. I mean, that's really the bottom line, as well as reduce the severity of the disease. The new COVID vaccine, which should be coming out in September or October, is a great way to do that." said Madden.
Click here to watch WTEN's full report. Dr. Madden's interview appears at the 11:40 mark.