13 Kids Who Care: Alexandra Sipos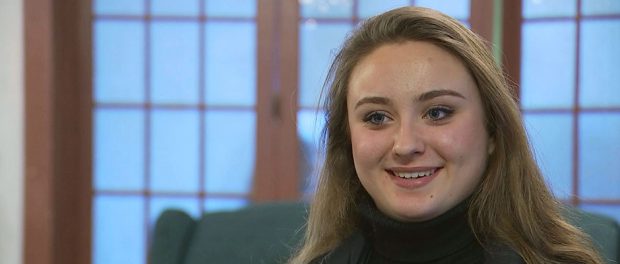 St. Peter's Health Partners, WNYT-NewsChannel 13 and the Times Union have once again teamed up to "uncover" and honor youth in the Capital Region whose volunteer work touches the lives of our residents and improves the quality of life in this area.
The program, "13 Kids Who Care," is now in its 20th year of recognizing truly exceptional kids who cast a bright light on our future.
Meet Alexandra Sipos, a 12th grader at Albany High School. Alexandra's drive and determination, particularly with her work on behalf of Refugee and Immigration Support Services of Emmaus, as well as the "Falcons for Sight" program through the Lions Club, truly sets her apart as a "kid who cares."
Click HERE to see Alexandra's story.
In an interesting twist – unbeknownst to the "13 Kids Who Care" selection committee – 15 years ago Alexandra was featured, alongside her family, in an advertising campaign for St. Peter's Hospital. The little girl clinging happily to her father's leg in the photo below is none other than Alexandra!