"13 Kids Who Care" Recognized For Volunteer Efforts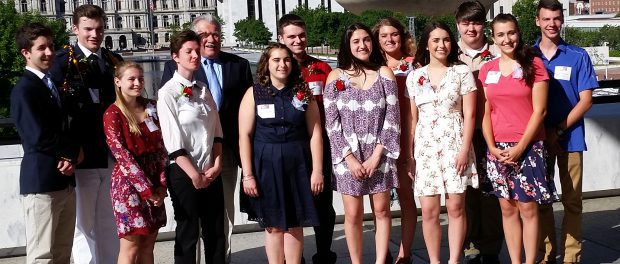 The Honorable Jack McEneny, who represented much of Albany County for 19 years in the New York State Assembly, joined officials from WNYT-NewsChannel 13, St. Peter's Health Partners (SPHP), and the Times Union on June 14 at the New York State Museum to recognize "13 Kids Who Care" – children and teens from throughout the Capital Region whose volunteer efforts make the region a better place to live.
The ceremony was the culmination of a very special series on WNYT to honor and reward young persons who go out of their way to volunteer and help their community. Their involvement "touches the lives" of people in the Capital Region and improves the quality of life in its communities.
The 13 honorees were chosen from nearly 60 nominations submitted by Capital Region residents in January and February. Particular emphasis was given to selecting teens whose efforts included helping the disadvantaged, disabled, or at-risk teens.
WNYT News Chief Meteorologist/Reporter Bob Kovachick highlighted one of the 13 young people every Monday since March on NewsChannel 13's "Live at Six" news broadcast.
Joining McEneny, Kovachick, family members, local dignitaries, and Capital Region school administrators and teachers in honoring the "13 Kids" were WNYT General Manager Stephen Baboulis, SPHP President and Chief Executive Officer James K. Reed, M.D., and Times Union Associate Editor Mike Spain.
"By raising our spirits and enriching our lives, the 13 Kids Who Care are making the Capital Region an even greater place to live and work," Reed said. "With their energy, creativity and drive, these remarkable students demonstrate they understand the key to a healthy community is compassion – neighbor helping neighbor – and providing assistance and a friendly smile when it is needed most."
"To our 13 Kids Who Care, you are some of the very best young people the Capital Region has to offer, and we thank you for all you do – congratulations," said Baboulis, noting the wide range of different activities and organizations for which the winners volunteered. "No matter what you do, you all have one thing in common – you help to keep the world moving forward to a better place."
In addition to being honored at the ceremony, each student received a $500 contribution from the sponsoring organizations to be given in the youth's name directly to the local charitable organization of his/her choice.
The following are the Capital Region young people who were chosen as "13 Kids Who Care":
Anna Brewer
Hoosick Falls Junior/Senior HS
William Byron
Christian Brothers Academy
John Wallace Cogan
Colonie Central High School
Benjamin Colley
Burnt Hills-Ballston Lake High School
Andrew Cosgrove
Shenendehowa High School
Emma Greenberg
Shenendehowa High School
Malerie Muratori
Shaker High School
Gianna Romano
Amsterdam High School
Josselyn Roosenberg
Loudonville Christian School
Hannah Shoemaker
Averill Park High School
Kathleen Snyder
Cairo-Durham High School
Sarah Tuzzolo
Albany High School
Scotty VanWormer
Ravena-Coeymans-Selkirk High School
To watch footage from the event, as well as Kovachick's segments on each of this year's 13 Kids Who Care, please visit: http://wnyt.com/13kids