The Eddy and Siena College Announce New Full-Tuition Scholarship for Nurses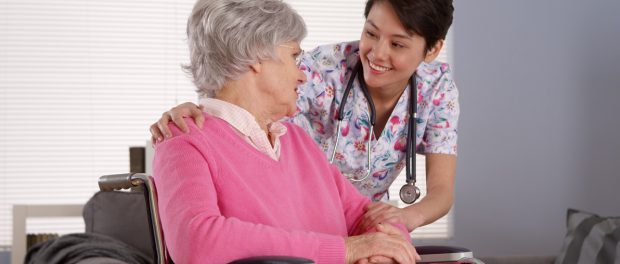 The Eddy network of long-term and continuing care services, a division of St. Peter's Health Partners (SPHP), in partnership with Siena College, has established a new joint scholarship program offering full-tuition scholarships to registered nurses interested in pursuing a bachelor's degree in nursing and working in the increasingly important field of population health.
The Margaret Krause and Siena College Nursing Scholarship Program will be funded through a unique partnership between Siena's new Baldwin Nursing Program, and The Eddy long-term and continuing care division of SPHP.
The first scholarship will be awarded to a student or students who will begin the nursing program this coming January. Applications are due to the scholarship selection committee by Oct. 11.
"There's a growing need for nurses who are prepared to assess and provide quality care to specific populations of patients who, in most cases, aren't in a traditional acute care hospital, but are in their own homes or are receiving rehabilitation services or skilled nursing care in a facility," said Kim Baker, chief executive officer of The Eddy and vice president of continuing care for SPHP.
"We're investing in our RNs, because we want to make sure Eddy nurses have the latest knowledge, competencies and skills that a bachelor of science in nursing provides," Baker said.
"We expect the RNs who will be getting their bachelor of science in nursing will continue to work while going to school," explained Lisa Flack, director of Siena's Baldwin Nursing Program. "The program has been structured so they only need to be on campus one day a week, on Wednesdays, to take all their required classes.
"Registered nurses who currently have an associate's degree can finish the program in 24 months, and RNs who have a bachelor's degree in another field can finish in as little as 16 months," Flack said.
The scholarship program is named, in part, after Margaret Krause, the longtime president of The Eddy Board of Directors who helped guide the growth of The Eddy from a 19-bed nursing home in Troy to a comprehensive continuum of care for seniors.
Recipients will be required to work full time for three years after graduation at an Eddy organization, which includes Sunnyview Rehabilitation Hospital, Eddy Visiting Nurse Association, The Community Hospice, and The Eddy nursing homes, which provide long-term care and short-term rehabilitation.
All RNs are encouraged to apply. Qualified applicants from within The Eddy and St. Peter's Health Partners will be given first consideration. Applications can be found at www.siena.edu/nursing. Questions should be directed to the Baldwin Nursing Program's administrative offices: (518) 783-2320.
Siena's Baldwin Nursing Program was created earlier this year so RNs who hold an associate's degree can complete a bachelor of science in nursing while working full-time. Siena is welcoming its first nursing students this fall semester.
#                                              #                                              #
Siena College is a private, Catholic, liberal arts college located in Loudonville, NY. More than 3,000 students are enrolled, studying 31 majors, 80-plus minors and certificates, and prestigious joint-degree programs in liberal arts, science and business.
St. Peter's Health Partners (SPHP) was created on October 2, 1011 by the merger of St. Peter's Health Care Services, Northeast Health, and Seton Health. The region's largest, most comprehensive health system, SPHP employs more than 12,500 employees, with more than 170 locations across seven counties, offering high-quality, advanced medical care, primary care, rehabilitation and senior services.